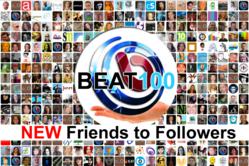 (PRWEB) June 23, 2013
BEAT100, the popular music video social network, has just introduced a new update to users' profiles in order to provide musicians and music-lovers with an easier way to build a fan base and communicate with other BEAT100 members. BEAT100 currently functions on a 'friend system', in which each member of the free social network maintains a profile and, similar to Facebook, requests other musicians or music-lovers to become friends. Members requested as friends must respond to friend requests and approve them in order for musicians to then connect via messages or chat and receive live feed updates of new music video or audio uploads and profile wall posts.
The BEAT100 team is now alternatively introducing a 'follower system', in which members can chose to follow other musicians in order to receive their profile updates, even without being mutually followed. The new system resembles Soundcloud and Twitter, allowing musicians to build a fan base without the complexity of accepting each incoming friend request and instead receiving live feed updates from only those musicians the member desires to follow.
As a result, each BEAT100 member should be aware of the following terms, as they are replacing the familiar 'My Friends' page of the BEAT100 profile: (1) 'Followers' are those individuals who the member follows and receives updates, whether video and audio uploads or wall posts, (2) 'Following' are those individuals who are following the member and receive the member's profile updates, and (3) 'Reciprocal Followers' are those individuals who the member follows and who mutually follow the member. Each user on BEAT100 continues to have the option to ignore other users, meaning they will no longer receive that member's network feed, or block users, indicating the blocked member's updates will not be visible on the blockers feed or public walls. In addition, all communication is restricted via messages, chat, or video comments from blocked users.
BEAT100 strives to provide musicians and music-lovers the ideal social network to promote music and discover great artists from around the world. This update is a result of feedback from current BEAT100 members and the BEAT100 team's effort to provide musicians even more improvements to be seen, heard, and rewarded for their talents. BEAT100 members should anticipate this change from a friend to follower system soon!
Dylan JK Vogt