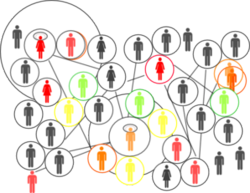 Jim Saake, CEO of Etronica, Inc., the developer of FollowMaid, comments, "FollowMaid is a very valuable service for Twitter users. We look forward to continuing to enhance its features"
Pacific Palisades, CA (PRWEB) August 29, 2012
Etronica, Inc. today announced the release of its new Beta service for FollowMaid, an innovative, web-based filtering utility designed to help social media users, and managers, better manage the Twitter experience.
FollowMaid is the new "must have" service for all Twitter users. FollowMaid enhances productivity with Twitter for individuals, small/medium business' and Fortune 1000 companies.
The FollowMaid service enables users to actively manage Friends (people you follow) and Followers easily and efficiently. No software to download...just log on to FollowMaid with a browser. FollowMaid scans the Twitter account. The results are automatically displayed in the browser. From there, FollowMaid can be used to easily update Twitter.
FollowMaid is great for businesses using Twitter to extend their customer service reach. For example, using FollowMaid they can now quickly identify "Spammers" and eliminate them from their Twitter account. Users can also create custom lists of Twitter accounts based on keywords. This is a great way to zero in on Twitter users that are important.
Visit FollowMaid to register for the free Beta. Also, follow us on Twitter at and visit us on Facebook
About Etronica, Inc.
Etronica Corp. is a software development company based in Pacific Palisades, Calif. In addition to the FollowMaid service, Etronica provides technology for enhanced navigation and personalization of digital entertainment guides and website management services.
Note: Etronica and FollowMaid are not associated with Twitter. The FollowMaid service is fully compliant with the Twitter Terms of Service
SOURCE: Etronica, Inc.