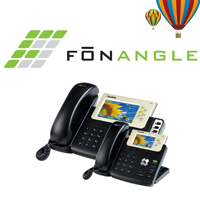 Yealink's new T38G and T32G IP phones have a fully loaded feature-set that will improve the efficiency of many businesses. They're well-designed, sharp-looking phones as well.
New York, NY (PRWEB) February 08, 2012
FonAngle Communications, a leader in the Hosted PBX / business VoIP market, have expanded their IP phone portfolio to include a full lineup of Yealink phones. The addition of Yealink products has further bolstered FonAngle's groundbreaking Hosted Office Phone System™ service, a technology that offers a feature rich, enterprise class business phone service without the upfront capital cost of similar onsite systems. Including Yealink phones into their roster of products further cements FonAngle's reputation as leaders in IP phone technology.
FonAngle's decision to partner with Yealink is a result of Yealink's broad range of high-quality IP phones and their impeccable service network, covering more than 80 countries world-wide.
"We're excited to offer our new and current Hosted Office Phone SystemTM customers a full range of Yealink products," said FonAngle CTO Chris Meyers. "Yealink's new TXXG series of IP phones have a fully loaded feature-set that will improve the efficiency of many businesses. They're well-designed, sharp-looking phones as well."
FonAngle believes Yealink's positive reputation in the industry speaks for itself. Since 2001, Yealink has built high-quality, cost-performative IP phones for the ever-growing Business VoIP market. Yealink products have earned the company its strong reputation due to a rich feature set, phenomenal HD voice quality, and unbeatable value. Yealink has won numerous industry awards, including the CIPCA 2010 Award for Best IP Phone Supplier and the ITEXPO 2009 Award for Most Innovative Product. The TXXG line is expected to garner Yealink a few more trophies to put on their already crowded mantle.
Along with the new TXXG line, FonAngle offers Yealink's full lineup of IP phones, including the popular and reliable TXXP line. Features such as HD Voice, HD Handset, and HD Speaker make Yealink IP phones some of the most robust products in the Hosted PBX market. For FonAngle customers looking for a little something extra, Yealink's line of video phones are class-leading business instruments. The VP-530 phone, for example, offers user-friendly features and a superbly realistic communication experience. For users who want to go the extra-mile communicating with their customers, video phone may be worth considering.
"Our job at FonAngle is to provide businesses the tools they need to succeed in a world where the importance of communication can't be overstated," Meyers said. "By pairing Yealink IP phones with our Hosted Office Phone SystemTM, we're providing our customers with the best tools available at the best price on the market."
And that market is growing fast. The Business VoIP sector is forecasted to grow to over $76 billion by 2015. SIP trunking--featured by FonAngle's highly rated FreedomSIP service--is a large part of that market, and it's expected to grow by 50% or more over the next four years.
By adding Yealink IP phones to its already well-rounded service, FonAngle has reasserted itself as a company to watch in the nearly 2 billion dollar and growing Hosted PBX industry.
About FonAngle Communications
FonAngle Communications is an award-winning Business VoIP leader for small to medium sized businesses. Their unified communication solution, "Hosted Office Phone System™ (HoPs)" is an enterprise class platform that combines voice, fax, instant messaging, presence, mobility, conference and web integration into one streamlined system. FreedomSIP, their SIP Trunking solution, is another business phone solution that promotes efficiency and flexibility; allowing customers to extend the life of their legacy equipment and benefit from huge costs savings. As a company focused on Quality, Support & Value, customers rave about how FonAngle increases productivity and saves them money. For more info please visit http://fonangle.com.
About Yealink
Founded in 2001, Yealink is the professional designer and manufacturer of IP Phone and IP Video Phone for the world-wide broadband telephony market. For more than ten years, Yealink has focused on VoIP products characterized by high cost-performance, easy deployment and affordable price. Yealink benefits customers from flexibility and broad interoperability with the major IP-PBX, softswitch and IMS in the market. Chosen by famous carriers, enterprises and clients from over 80 countries, Yealink provides SMB and diversified customers from all over the world a best choice to extend the value of network communication. http://yealink.com
All trademarks and copyrights belong to their respective owners. All rights reserved.
###