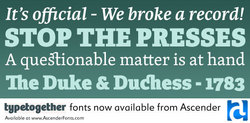 What we like about Ascender is their reputation as an innovative font developer and distributor, and their expertise with licensing fonts to everyone from home users to major corporations
Elk Grove Village, IL (PRWEB) June 9, 2010
Ascender Corp is pleased to announce that the award-winning fonts from TypeTogether are now available for licensing from Ascender. The TypeTogether font collection features a range of text and headline typefaces designed for the professional design and publishing market. Ascender is making the fonts available for end users to download from its AscenderFonts.com website, and also for licensing to its software developer and hardware manufacture customers for including in products.
TypeTogether is an independent type foundry found by Veronika Burian and José Scaglione in 2006. The two designers met at the University of Reading while completing their MAs in Type Design. TypeTogether creates and publishes high quality typefaces and collaborates on new type projects together, and is focused on finding innovative and stylish solutions, especially on fonts for reading.
"What we like about Ascender is their reputation as an innovative font developer and distributor, and their expertise with licensing fonts to everyone from home users to major corporations," said Veronika Burian, co-founder of TypeTogether. "We share the same passion for high quality, and look forward to working together to bring our font collection to a wider audience" she added.
The TypeTogether font collection features extensive OpenType typographic features, and their typefaces have achieved recognition in several international competitions, including TDC and ED-Awards.
For more information or to view the fonts visit: http://www.ascenderfonts.com/foundry/type-together/
About Ascender
Ascender Corporation is a leading provider of advanced font products. Ascender's founders are font industry experts and have been involved in developing many of the most important and influential fonts used in computers, mobile devices, consumer electronics and software products. Ascender provides multilingual, custom font development for a wide range of customers including creative professionals, enterprises, software developers and hardware manufacturers. Ascender also provides an extensive collection of TrueType & OpenType fonts for download to graphic designers and consumers through its font websites, including http://www.AscenderFonts.com
Contact:
Bill Davis, Vice President
Ascender Corporation
25 Northwest Point Blvd, Suite 225 Elk Grove Village, IL 60007 USA
Phone: (847) 357 0730
Web: http://www.ascendercorp.com
# # #