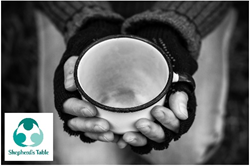 The Shepherd's Table is a permanent fixture of the Silver Spring community, and our agency is excited to be part of the effort to bring our community together by offering a helping hand to those who need it most
Silver Spring, MD (PRWEB) April 19, 2017
The Portee Insurance Agency, a central Maryland firm that offers asset protection and financial planning assistance to communities in the greater DC metro area, is joining local nonprofit Shepherd's Table in a charity drive to assist underprivileged families in the Silver Spring region.
Shepherd's Table volunteers have been providing food to those in need for more than 30 years, and in all that time the organization has never missed a meal. In addition to feeding hungry families, the Shepherd's Table hands out free clothing as well as offering access to laundry and shower facilities, medical clinic referrals, social service assistance, drug and alcohol counseling, and a host of other professional services.
"The Shepherd's Table is a permanent fixture of the Silver Spring community, and our agency is excited to be part of the effort to bring our community together by offering a helping hand to those who need it most," says Ralph Portee, owner and principal agent of the Portee Agency.
Portee and his team have taken to the Internet in an effort to galvanize local support for the Shepherd's Table charity event by connecting with local community organizers, business owners, and fellow families over email and social media. Continued efforts to publicize the charity drive will include a headline article in the next publication of the Portee Agency's online magazine "Our Hometown": http://www.porteeinsurance.com/Our-Hometown-Magazine_41.
More than a dozen noteworthy charitable organizations and causes operating in the DC area have benefitted from the assistance of the Portee Agency over the last several years. Portee and his team are committed members of the "Agents of Change" charity support group, and future efforts to assist additional local charities are already in the planning stages.
All readers interested in being a part of the Shepherd's Table charity drive are urged by the Portee Agency to make a difference in the local community by following this link and taking action: http://www.porteeinsurance.com/A-Seat-at-The-Shepherds-Table_24_community_cause. A full list of previous charity drives sponsored by the Portee Agency can be bookmarked from this page: http://www.porteeinsurance.com/community-cause?page=1.
About Portee Insurance
A full service firm serving families from two locations in Silver Spring, MD, Ralph Portee and his team of caring professionals have one simple mission: to provide the best insurance and financial services in the industry while maintaining consistently superior service. Their focus is to protect all the things which are most important to their clients (their families, homes, cars, etc.) and to help them develop strategies for long-term financial success and security. The dedicated agents at Portee Insurance may be reached by calling 301-587-0196.