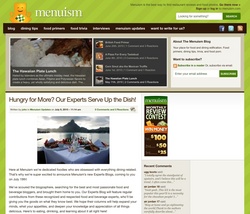 Our experts teach you how to become a better foodie.
San Francisco, CA (PRWEB) July 15, 2010
Menuism.com, the leading online provider of restaurant menus in the U.S., today announced the launch of its expert blog community, where famous food bloggers will weigh in with regular posts on topics ranging from dining etiquette to food trivia to the latest food trends. The introduction of Menuism.com's experts blog enriches the community aspect of the social networking site for foodies by connecting everyday food lovers with their favorite food bloggers from across the blogosphere--all in one virtual location: http://www.menuism.com/blog.
The experts blog is the latest offering within Menuism.com's evolving suite of free web-based services designed to support food-obsessed consumers as they connect with fellow foodies and seek out the top spots and best dishes in their neck of the woods and around the globe.
Menuism.com's community resources include:

Experts Blog - Connect with favorite food bloggers, discover new talent and read insider editorials.
Menu Database - With the largest online menu database on the Web, users search for what they want to eat near home, work or wherever they are on the road.
Restaurant Reviews & Dish Ratings - Rate what you ate, not just where you ate.
Food Porn - Real honest-to-goodness food porn for food fanatics. Upload, tag, share and track favorites.
Social Networking - Keep in touch with friends and fans and connect with fellow foodies. A customizable interface enables users to bookmark favorite restaurants, keep track of favorite dishes, import Twitter feeds, and organize comments, photos, gutchecks (what you ate), and other dining highlights all in a single easy-to-manage spot.
Dining Journals - Consolidate all your restaurant interactions in a single entry. Are you a regular? Write and track multiple reviews for the same restaurant, along with all the photos you've uploaded, and never forget your favorite dishes--or the experience.
About Menuism.com
Menuism.com is the brainchild of food-obsessed founders Justin Chen and John Li, whose combined passion for dining out, keeping up with friends, dishing on delicious food and tracking down new favorite haunts and dishes culminated in launching the social network for foodies and friends in 2006.
###