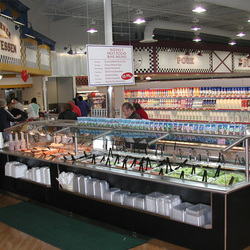 Atlantic Food Bars is big enough to handle the equipment needs of the nation's largest supermarket chains
Palm Beach Gardens, FL (PRWEB) February 4, 2009
Two years of brutal increases in commodity costs and skyrocketing energy prices have made running a business of any kind difficult in these tough economic times. Food display case manufacturer Atlantic Food Bars has decided to assist their customers by lowering prices in 2009.
The growing incidence of two income households, time restrictions and easy access to quality prepared food have conditioned fewer people to cook at home. Food display cases from Atlantic Food Bars are designed to showcase prepared foods to meet this growing trend. Their food display cases allow for cross merchandising of hot and cold items in the same footprint, driving higher sales per square foot. Refrigerated salad bars, seafood display cases, soup bars and hot food display cases are now available at lower prices in 2009.
"Atlantic Food Bars is big enough to handle the equipment needs of the nation's largest supermarket chains," said Carl Feldman, President of Atlantic Food Bars. "We also serve national volume feeders, institutions and universities, and the U.S. Military, yet offer personal service required by small independent retailers." The company builds a broad spectrum of standard and custom food display cases, from custom refrigerated salad bars and refrigerated seafood display cases options to customized hot food bars and combination hot and cold food display cases.
Atlantic Food Bars has developed food display case designs that match their customers' specific requirements. The company is able to build custom equipment in the same time frame as standard equipment, and there is no extra charge to customize a case design.
Feldman added, "Our goals are to help our customers meet the ever changing needs of the food service marketplace."
For more information, or to look at refrigerated salad bar options, refrigerated seafood display cases and soup bars, as well as hot food display cases, visit the Atlantic Food Bars website.
About Atlantic Food Bars:
Atlantic Food Bars was founded in 1947 and has continuously served the food service industry for 62 years. Company President Carl Feldman is the third generation owner of this family run business.
# # #