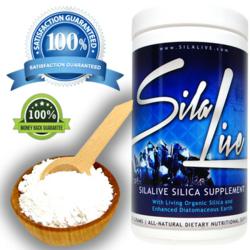 Food Grade Diatomaceous Earth could be considered an "Ancient Treasure for Modern Health" being so universal in applications and uses.
Los Angeles, CA (PRWEB) November 29, 2012
A new diatomaceous earth supplement has entered the market and promises to promote full detoxification and cleansing of the body in a safe, natural manner.
According to the visionary creators of SilaLive Silica Supplement, "diatomaceous earth and silica can effectively purge the body of toxins and parasites that slow down the internal processes and harm the body."
According to health experts, humans encounter various toxins, bacteria, viruses, and parasites on a daily basis. While the immune system can get rid of a large percentage of these harmful parasites, it cannot get rid of all of them.
The parasites that are not removed can cling to the walls of the digestive tract.
Eventually, these parasites can start to slow down the body and slow the digestive process, which is why humans need to detoxify every so often. The makers of Silalive believe their pure diatomaceous earth supplement is the best way to do this.
Diatomaceous earth is a clay like powder that is formed from fossilized unicellular algae called diatoms. It is mined and commonly used as a pesticide and insecticide, but has grown in popularity as a supplement over the past few years.
The demand for all natural cellular detoxification and systemic cleansing products has grown as well and the makers of SilaLive as it can become a top selling detoxifying product.
According to research, Diatomaceous earth can detoxify the digestive system in two main ways. First, diatomaceous earth contains rough, sharp edges. Although diatomaceous earth does not feel hard or irritate the skin if held, it actually appears like tiny shards of glass under a microscope. When it enters the digestive system, these sharp edges scrape away at any parasites or toxins that have accumulated in the digestive tract.
However, it does not tear the lining of the digestive tract, which means consumers should not expect any pain or adverse effects from using Silalive.
Second, diatomaceous earth is shaped like a cylinder. Viruses, bacteria, and other harmful material that is floating is immediately captured and trapped inside the cylinder as diatomaceous earth works its way through the digestive tract. Eventually, these harmful materials are removed through bowel functions and the digestive tract is purified and cleansed of these harmful toxins.
According to the manufacturer of Silalive, there are many benefits to detoxifying the body. These benefits include: improved digestion, improved regulation of bowel movements, faster absorb of nutrients, improved colon health, faster digestion, improved circulation, improved immune system function, and improved overall health.
In addition to the detoxification of the body,
Silalive Silica can also increase chances of supporting the body's ability to help lower blood pressure, help promote healthy weight loss, improve skin health, improve collagen production, strengthen the muscular system, and improve hair health.
While some consumers have shown skepticism regarding Silalive, the manufacturer pointed out that diatomaceous earth has long been used as a de-wormer in animals. In fact, diatomaceous earth works in a very similar way between animals and humans. The importance and deep significance here is that SilaLive's food grade diatomaceous earth is premium quality and contains other natural trace minerals on top of the 85% silica found naturally-occuring (diatoms).
The sharp edges scrape away the worms afflicting an animal and slowly remove them – the same way it does with toxins and parasites affected humans.
This is why the makers of Silalive believe Silalive is such a promising cleanser and detoxifying product that can safely remove harmful materials from the body. There are many credible resources found on the internet and health books that coin, label, and tout food grade diatomaceous earth as an ancient treasure for modern health.
SilaLive Silica's food grade diatomaceous earth powder is now available for consumers to purchase and for a limited time comes with free-same day shipping.
Pricing is as follows: a 1lb. tub is $35, a 2lb. tub is $60, a 3lb. tub is $80 and a 5lb. tub is $120, but comes with an additional 1lb. tub of Silalive absolutely free.
For more information about SilaLive Silica Supplement, the world's first-ever enhanced diatomaceous earth food grade supplement with living organic silica and how it can promote overall health/wellness, click on this link to visit the official website of Silalive.
*These statements have not been evaluated by the FDA. These supplements are not intended to diagnose, treat, cure, or prevent any disease.