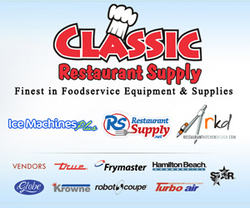 We were very pleased to receive the recognition from DiversityBusiness.com. Our team works hard to help our customers make the foodservice equipment purchase that is right for their business
Hartford, CT (PRWEB) April 19, 2011
Classic Restaurant Supply, LLC, a commercial foodservice equipment sales company, has announced that DiversityBusiness.com recently selected the company as a Top Privately-Held Business. Classic Restaurant Supply, LLC is a commercial retailer of food service equipment and supplies and is the parent company that owns and operates the online equipment sales websites IceMachinesPlus.com and RestaurantSupply.net. Classic also owns and operates the design service website RestaurantKitchenDesign.com.
Classic Restaurant Supply, LLC was chosen as one of the Top 50 Privately-Held Businesses in the state of Connecticut, ranked at 25th in the state. Over 750,000 U.S. businesses participated in the survey sent out by DiversityBusiness.com, completing a business profile for the DiversityBusiness.com online directory.
"We were very pleased to receive the recognition from DiversityBusiness.com," said Michele Girard, Classic's general manager. "Our team works hard to help our customers make the foodservice equipment purchase that is right for their business."
DiversityBusiness.com ranks the nation's top companies in several categories, based upon annual gross revenue and business profiles. The Top Business List Awards include national and state awards for the top Privately-Held Businesses, top Women Owned Businesses, top Diversity Owned businesses, top Emerging Businesses, and top Veteran Owned businesses, among other categories. The awards recognize companies that have stood out in their market places.
By being selected for this award, Classic has demonstrated that it is one of the top entrepreneurial companies in the state of Connecticut and in the country.
One special highlight of being selected for a Top Business award was the receipt of a congratulatory letter from the Office of the Governor, Dannel P. Malloy, of the State of Connecticut, where Classic Restaurant Supply's offices and showroom are headquartered.
Of particular note, Governor Malloy stated, "This designation is a testament to your exceptional service and your dedication to Connecticut's economic success in the future. Your contributions are a major asset to Connecticut's business community and a great benefit to all of the citizens of the state of Connecticut."
DiversityBusiness.com's official Annual National Business Awards Ceremony and Conference will be held in Washington, DC on April 19 - 21, 2011. This year Joan Lunden, the former co-host of ABC's Good Morning America, will host the awards ceremony.
ABOUT THE COMPANY
Classic Restaurant Supply, LLC is a commercial retailer of foodservice equipment and supplies, as well as a provider of foodservice-related design and contract work. The company has built a reputation based on its commitment to offering the highest quality products at the most competitive prices in the marketplace. Classic Restaurant Supply owns and operates a showroom in Hartford, Connecticut as well as online retail businesses including RestaurantSupply.net, IceMachinesPlus.com and RestaurantKitchenDesign.com. IceMachinesPlus.com provides expert sales and service for all major brands of commercial ice machines. RestaurantSupply.net is a full service online retailer of restaurant supplies and equipment. RestaurantKitchenDesign.com is a restaurant kitchen design services company with an experienced team of restaurant kitchen designers.
###