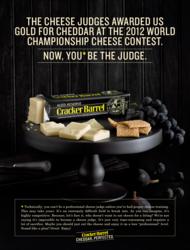 It is tremendous honor to once again collaborate with the amazing team at Droga 5 as well as such a prominent brand as Kraft
New York, NY (PRWEB) October 25, 2012
Food Stylist Charlotte Omnès has a lot to celebrate for the month of October. Included in her featured projects this month, her contribution to the latest ad campaign by Droga 5 for Kraft owned Cracker Barrel Cheese. The campaign, featuring both print ads and commercials, are officially launched.
"It is tremendous honor to once again collaborate with the amazing team at Droga 5 as well as such a prominent brand as Kraft", says Charlotte.
According to the New York Times, Cracker Barrel is planning to spend up to $30 million dollars on their latest campaign which will appear on cable and network stations, as well as in print, digital and in-store advertizing.
Recently, Charlotte and her crew sculpted real life versions of OREO's Daily Twist Cookies for the agency, Weber Shandwick to celebrate OREO's 100th anniversary. The Twists were on display at New York's Times Square during the last of the 100 days of the agency's campaign.
Also in October, Charlotte's work was featured at the NY Food Film Festival. The festival, which takes place in New York the 17th-21st and in Chicago November 15th-17th, featured Charlotte's collaboration with Director/Photographer Scott Pitts on Hand-Forged Doughnuts. Inspired by the book the two collaborated on for Top Pot Doughnuts book Hand-Forged Doughnuts: Secrets from the home Baker.
For more information or to view the amazing creations of Charlotte Omnès, visit http://www.charlotteomnes.com
About Charlotte Omnès
Raised in a small town in the Pacific Northwest, Omnès was aware very early on of her desire for the culinary arts. Experimenting in the kitchen as a young child developed into a global career as a food stylist for some of the world's top brands. Based in New York, Omnès has over 10 years of experience working as food stylist.
Media Contact:
206.354.5690
charlotte(at)charlotteomnes(dot)com