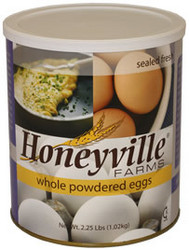 Well, for one, all you have to do is Google 'Food Shortages' or 'Food Hoarding' to see that there is already a significant and compelling on-line conversation going on about potential global shortages in the food supply and distribution network. The whole conversation about peak oil comes to mind here
Austin, Texas (PRWEB) March 30, 2009
Due to a dramatic increase in consumer demand, SurvivalOutpost.com, an Austin-based on-line retail store specializing in Emergency Preparedness Supplies & Nonperishable Survival Food for individuals, families and businesses, recently announced a new line of dehydrated food products to meet the ever-increasing desire for emergency food storage.
"The demand for nonperishable survival foods, such as MRE's and dehydrated meals - anything that has a long shelf-life - has increased dramatically over the past 6 months," notes SurvivalOutpost.com co-owner Brian French. To meet the ever-increasing demand for emergency food supplies, SurvivalOutpost.com recently established a supplier relationship with Honeyville Farms, a leading producer of nonperishable foods. "From the day we launched our new line of dehydrated foods, the demand has been amazing. People are clearly becoming increasingly nervous about basic provisions such as food and water, and they are buying these products in bulk," says French.
In fact, 80 percent of all SurvivalOutpost.com's transactions are for Nonperishable Survival Food and Water Storage & Purification Supplies, advises French.
What is driving this dramatic increase in food hoarding?
"Well, for one, all you have to do is Google 'Food Shortages' or 'Food Hoarding' to see that there is already a significant and compelling on-line conversation going on about potential global shortages in the food supply and distribution network. The whole conversation about peak oil comes to mind here," says Kevin Baum, Brian's business partner and co-owner of SurvivalOutpost.com.
"But what we really think is driving this demand, and what our customers are telling us, is that there is an emerging realization among normal people -- in other words, folks just like you and me -- that society's current level of growth in terms of population, consumption, waste, debt creation and the like, is simply not sustainable. It can't last. Many people think the system is going to break, and they are starting to prepare for it."
It would certainly seem that trends with the global economy are determined to reinforce this fear. Food hoarding, a practice that was once relegated to the fringe, is rapidly becoming mainstream.
"It is no longer just a responsible precaution to natural disasters, today's interest in Emergency Preparedness Supplies and Dehydrated Food Storage appears to have a sense of urgency about it. It's more visceral," explains Baum.
Perhaps driven by the rapidly increasing number of credible and authoritative sources that provide sobering assessments of the future, such as Chris Masterson's "The Crash Course" video, or James Kunstler's book "The Long Emergency"; not too mention the entertainment industry's recent infatuation with end-of-the-world scenarios (there are three blockbusters slated for 2009 depicting the end of world), there appears to be a growing interest in self-sufficiency, survival and independence, motivated by a general sense of unease.
"Where people put their money is generally a good indicator of where their interest lies. And right now it appears as if a whole lot of people are interested in food storage. These are interesting times," concludes French.
SurvivalOutpost.com is an on-line retail store specializing in emergency preparedness supplies, non-perishable survival food, and survival equipment for individuals, families and businesses. For more information, see http://www.SurvivalOutpost.com.
###