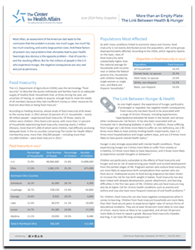 Cleveland, Ohio (PRWEB) July 02, 2014
Most often, an assessment of the American diet leads to the conclusion that the problem is excess: too much sugar, too much fat, too much snacking and overly large portion sizes. But it's not just excess that can lead to health problems. Food insecurity, or poor access to an adequate supply of healthy food, can also have an impact on health. For the millions of people in the U.S. who experience hunger, the negative consequences are very real and just as pernicious.
The Center's June 2014 Policy Snapshot – More Than an Empty Plate: The Link Between Hunger and Health – examines food insecurity and the negative consequences it has on health.
To browse related information and resources cited in this publication, visit The Center's Health & Hunger Pinterest board.
A full list of our publications can be found on our website along with a wide range of resources covering a variety of health policy issues.
As the leading advocate for Northeast Ohio hospitals, The Center for Health Affairs provides members with vital services and resources aimed at enhancing the region's healthcare community. The Center delivers on this goal by focusing its efforts on areas that benefit from a regional approach: Healthcare Workforce; Emergency Preparedness; Public Policy & Advocacy; Finance & Reimbursement; and Community Initiatives. With a rich history as the Northeast Ohio hospital association, dating back to 1916, The Center serves as the collective voice of hospitals and the source for Northeast Ohio hospital and healthcare information. As leaders, we continuously scan the periphery, looking for opportunities to enhance the region's workforce, better prepare our hospitals for an emergency, and increase the region's wage index. And because of our business affiliation with CHAMPS Healthcare, we have the resources to provide a broad level of professional services to our members. The Center, located in downtown Cleveland, is proud to advocate on behalf of 38 acute-care hospitals and two long-term acute-care hospitals in six counties. For more, visit chanet.org.