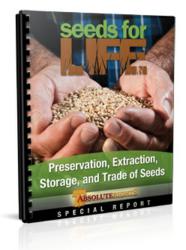 ...the safety of food continues to decline, as each recall of spinach or potatoes hits the nightly news.
Austin, TX (PRWEB) March 17, 2012
Absolute Rights has released a Special Report meant to give people the ability to work with food's infant state of seeds, and an article about the report said the world can't reach food sovereignty in the present state.
Before it can be achieved on a global scale, the article said food sovereignty needs to start at the grassroots level. Individuals who learn to become self-sufficient for their nutritional needs will be leading the way to solving the food crisis facing the world today.
"Seeds for Life: Preservation, Extraction, Storage, and Trade of Seeds" is a road map for the individual farmer who wants to stop relying on the current food supplies. The report allows for the definition of personal food and agricultural systems, instead of letting them be defined by corporations.
"Seeds for Life" mirrors the main idea behind food sovereignty: food is a basic human right, and when access to safe, nutritious, and culturally appropriate food is denied, a healthy life with full human dignity is made difficult.
The article also added that the safety of food continues to decline, as each recall of spinach or potatoes hits the nightly news. By teaching the right way to grow food individually, "Seeds for Life" instructs even the most amateur of farmers in starting their journey to food sovereignty.
It proves that finding out how to buy organic seeds can be vitally important to a human's life. Getting a hold of the source to self-reliance is a powerful act, but just procuring seeds isn't enough; they need to be cared for and nurtured in order to get the best results, said the article.
"Seeds for Life" gets those results with the tried and true methods that have worked since the beginnings of human civilization. Ever since man's need to eat outgrew the hunter-gatherer phase, agricultural systems have been used to provide food to communities. Because of the modernization of the agricultural business, the world is running the risk of ruining food supplies sooner than it would seem, according to the article.
To take advantage of the power given by food sovereignty, the article suggested taking the information and guidance inside "Seeds for Life" and assuring the longevity and value of food supplies for years to come.