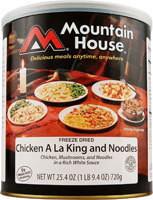 It's interesting what we hear from our customers
Austin, TX (PRWEB) August 27, 2009
"People are still very worried about the future," comments SurvivalOutpost.com co-owner Brian French. "They speak with their wallets and right now the message is loud and clear -- people are worried about emergency food supplies."
With the possibility of a resurging and deadly pandemic, an uncertain and unpredictable economy, run-away deficit spending, spiraling unemployment, increasingly weird weather, and the apparent convergence of multiple disturbing and unsettling trends, people are beginning to think about the basics of survival in turbulent times: Emergency Food Supplies, Emergency Water Storage, & Survival Equipment.
"It's interesting what we hear from our customers," notes retired fire chief and SurvivalOutpost.com co-owner Kevin Baum. "In the 'old days' the only people who concerned themselves with long-term emergency food supplies & emergency water storage were fringe survivalists and public safety professionals. Today these activities have become mainstream."
Baum notes that SurvivalOutpost.com's customer today is just as likely to be an accountant from Minneapolis who lives in a downtown condo as it is a rugged survivalist living out of a cave in Montana. "And they are all worried about the same thing: food."
In an effort to meet the demands from an increasingly wary public, SurvivalOutpost.com recently added a wide variety of Mountain House Freeze Dried food products to their diverse inventory of emergency food supplies. "We are excited about this relationship as it is a direct response to customer requests," notes French. "Mountain House is arguably the leader in the freeze-dried food market, with a variety of tasty meals to choose from. Our customers have told us they want the diversity of food products Mountain House provides, and we are listening to them."
"When the time for action is upon you, the time to prepare is past. A lot of people are taking action, and they are buying emergency food supplies. These trends are something to think about."
SurvivalOutpost.com is an on-line retail store specializing in emergency food supplies, emergency water storage and survival equipment for individuals, families and businesses. For more information, visit SurvivalOutpost.com.
###