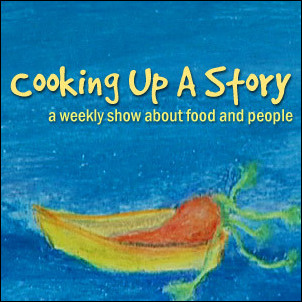 A person's a person, no matter how small
Portland, OR (PRWEB) June 19, 2006
Cooking Up A Story serves up a fresh approach to storytelling, and goes after TV audiences on the Web. More than just another Video Blog site, a tiny film company is producing a weekly show hoping to reach millions of people throughout the world. If Dr. Seuss were here, he might say this sounds like the people of "Who-ville": "A person's a person, no matter how small," where every unseen resident together, must use their voice to make their existence known. Will they ever get heard?
As television begins its cautious transition over to the Internet, maverick companies and individuals are striving to reach audiences directly. One of these companies, Potter Productions, has created a video blog site to host their new show: Cooking Up A Story.
Cooking Up A Story dispenses with the formulaic style so prominently displayed on the television dial, and embraces the interactive features of the web to promote a place for community participation. Another departure from television, primetime is now your time, where viewers can watch at their optimum convenience. Every Tuesday, a new episode relies upon old-fashion storytelling to provide fresh stories about real people and their connection with food. A barbecue man shares his story: he is a cookbook author, a parking lot chef, and a BBQ product spokesmen who travels 85,000 miles—eight months of the year. A behind the scenes tour takes viewers inside the only whisk manufacturing plant in the United States to see how they are made. Looking at food from all sides, an upcoming show offers a close look through the eyes of Type I diabetic child, where food is an everyday life and death decision. These stories touch upon culture, history, lifestyle choices, and family traditions.
The main show includes at least one recipe, and among the following short video segments: Leftovers, something left out of the main show, but that deserves to be seen; Food4thot, an assortment of very short individual observations, thoughts, or expressions about food in general; Next Week, a brief look at the following week's episode; and, Thursday Answers, questions submitted on Tuesday that invites viewers to ask questions of the main characters, the interview posted on the following Thursday.
Make no mistake, the Internet is feeding a media revolution, and Cooking Up A Story delivers but one tiny example. Nevertheless, as the residents of "Who-ville" have so remarkably demonstrated, one tiny voice can make all the difference in the world. All together, now: Yopp!
About Potter Productions
Formed after 25 years in television news, Potter Productions is an independent film company whose work emphasizes storytelling shot in natural, unscripted environments. Their previous work includes two feature length DVDs on barbecue that were both recipients of the 2006 Telly Awards.
# # #