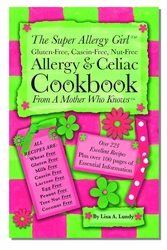 Food experts assert that a food must be offered at least 21 times before you can consider it to be rejected by a child
Buffalo, New York (Vocus) July 28, 2009
While between twenty to thirty percent of children are labeled as "picky eaters" by their parents, little research has been conducted on this topic. The percentage of children identified as picky eaters increased from 19% to 50% from the ages of four to 24 months according to an article in the Journal of Nutrition Education and Behavior in 2004. A study conducted in the United Kingdom found that while eating problems are common in toddlers, most children have normal growth and weight. Parents frustrated with a picky eater can take heart and help in the form of a free video and tip sheet offered by motivational speaker and cookbook author, Lisa A. Lundy, which can be downloaded from her website at http://www.TheSuperAllergyCookbook.com.
Lundy is the author of The Super Allergy Girl™ Allergy & Celiac Cookbook - From A Mother Who Knows™, a gluten-free, dairy-free, egg-free, peanut-free, tree nut free and other allergen free resource for both beginners and advanced cooks. She knows firsthand that there can be medical sources that cause picky eating, and she recommends ruling out celiac disease as a possibility. Celiac disease is an autoimmune disease that involves food - specifically gluten - which is found in wheat, barley, rye, spelt and some other grains. U.S. experts estimate that celiac disease affects nearly 1% of the population or nearly 3 million Americans. 97% of the people with celiac disease do not yet know that they have it. Lundy has plenty of experience with picky eaters just in her own household. Her daughter, Anne, was unable to eat most common foods due to allergic reactions, and therefore was not exposed to many foods at a young age. Lundy had to do some extra work to broaden Anne's taste palate.
"Food experts assert that a food must be offered at least 21 times before you can consider it to be rejected by a child," said Lundy. "Most of us parents quit after four or five attempts, if that. It takes a real commitment to keep offering a food after it is repeatedly rejected." Lundy's content rich website offers free white papers, tip sheets, videos and recipes to parents to help them on a wide range of food related topics - all designed to empower consumers. Lundy is a firm believer in getting children into the kitchen and helping with food preparation and shopping at an early age. "Children are much more interested and inclined to eat the foods that they help prepare. The more involved they are - the more likely they are to be open to eating and enjoying new foods."
Lundy recommends that parents consider that food dyes, additives and preservatives could be contributing to a picky eater dilemma, and sends parents to The Feingold® Association of the United States for research studies on the impact these ingredients have on health, behavior, cognitive processing and wellness. Lundy and her husband, Randy Garrett, have had an enormous struggle keeping Anne alive - a journey that has lasted for more than six years. She would love nothing more than to help others learn from the mistakes she has made and to benefit from her research and experience. Her book is available at http://www.TheSuperAllergyCookbook.com.
Size: 6" x 9"
Pages: 405 pages
Soft Cover, Perfect Bound
ISBN#: 978-0-9797542-0-3
Price: $28.95
Contact: Ms. Lisa Lundy
Phone: (716) 835-6392
# # #