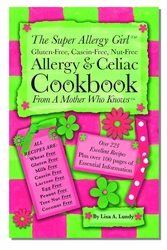 Those who don't know history are destined to repeat it.
Buffalo, New York (Vocus) July 2, 2009
As the Edmund Burke quote goes, "Those who don't know history are destined to repeat it." Motivational speaker and specialty cookbook author Lisa A. Lundy makes available to the public and media outlets a free white paper on the history of food allergies, which you can download from her website (no registration required): http://www.TheSuperAllergyCookbook.com .
Hippocrates, the Greek physician, who is considered to be the Father of Medicine (460 BC - 370 BC), wrote extensively on how food could impact human health long before we had pesticides, herbicides, chemicals and other pollutants, as did many other historically influential physicians from around the world. Hippocrates wrote over two thousand years ago:
"For cheese does not prove equally injurious to all men, for there are those who can take it to satiety, without being hurt by it in the least, but, on the contrary, it is wonderful what strength it imparts to those it agrees with; but there are those who do not bear it well, their constitutions are different…"
Complete with several quotations from Internationally known physicians and twenty-seven medical references, this white paper gives a snapshot view of the history of food allergies from Hippocrates time to the 1900's as well as the differences in lifestyle and technology in this same time period in a quick and engaging format. It is written in an easy to read format that anyone can understand, yet footnoted with the medical references for scholarly readers who want to dig in on a deeper level.
The white paper was written after extensive research on food allergies conducted at her local medical library as part of a medical paper to ensure that her then 20-month-old daughter's life-saving medical treatments would be covered by their HMO. Lundy believes that education is one of our best tools for transforming health care and provides a content rich website to help people with health issues that can be improved by dietary changes.
Lisa A. Lundy is the author of ''The Super Allergy Girl™ Allergy & Celiac Cookbook (From A Mother Who Knows™),'' a gluten-free, casein-free, dairy-free, egg-free, peanut and tree-nut free and other allergen-free resource for both the beginner and experienced baker. Her cookbook, with more than 225 excellent recipes and over 100 pages of essential information, is not a me-too allergy and celiac cookbook as you might suspect just by looking at the appealing cover. If you order now you will receive 10% off the list price of this exceptional book when you order from http://www.TheSuperAllergyCookbook.com using the promotional code HISTORY on the order. The 10% discount expires on July 31, 2009, and has a limit of one per customer.
http://www.TheSuperAllergyCookbook.com
Size: 6" x 9"
Pages: 405 pages
Soft Cover, Perfect Bound
ISBN#: 978-0-9797542-0-3
Price: $28.95
Contact: Ms. Lisa Lundy
Phone: (716) 835-6392
e-mail: Lisa(at)theroostercrows.com
###