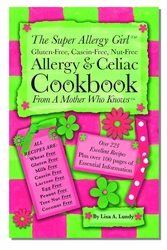 What this means overall is that there is a tremendous buzz about allergies, food allergies and food sensitivities or intolerances, and celiac disease
Buffalo, New York (Vocus) July 12, 2009
Allergies, Immunoglobulin E, IgE mediated, non-IgE mediated, intolerances, sensitivities, delayed allergies, anaphylactic shock, and epinephrine are all terms that can leave the average allergy consumer's head spinning. People looking for help in understanding the difference between allergy levels can now watch a video by motivational speaker and author, Lisa A. Lundy or download a free Allergy FAQ from her website at http://www.thesuperallergycookbook.com .
According to the CDC Fast Facts A-Z, an estimated 50 million Americans suffer from all types of allergies, which equates to 1 in 5 Americans, including indoor/outdoor, food and drug, latex, insect, skin and eye allergies. Allergy is the 5th leading chronic disease in the U.S. among all ages, and the 3rd most common chronic disease among children under 18 years of age says a paper titled ''Chronic Conditions: A Challenge for the 21st Century'' published by the National Academy on an Aging Society in 2000.
The National Center for Health Statistics indicates that the prevalence of reported food allergies has risen 24% among children under the age of 5 years and 19% among children ages 5-17 years during the past decade. Children with food allergies are 2 to 4 times more likely to have other related conditions such as asthma and other allergies, compared with children without food allergies reports The Food Allergy and Anaphylaxis Network (FAAN) in their ''What You Should Know About Living with Food Allergy'' resource available here. Ninety percent of all food allergy reactions (IgE mediated or life-threatening) are caused by 8 common foods: milk, soy, eggs, wheat, peanuts, tree nuts, fish and shellfish.
While not life-threatening, non-IgE mediated food allergies, which are also referred to as food sensitivities, food intolerances, or delayed food allergies, affect 75 million to 84 million Americans according to the Food and Drug Administration estimates. Celiac disease, a disease often confused with a food allergy since it involves gluten, an amino acid sequence found in wheat, barley, rye, some common oats and other grains, affects about 1% of Americans. According to the University of Chicago Celiac Disease Program, 97% of the people with celiac disease in the U.S. are not yet diagnosed.
"What this means overall is that there is a tremendous buzz about allergies, food allergies and food sensitivities or intolerances, and celiac disease," said Lundy. "More consumers today are looking for the reasons that they are feeling sick and tired, and are wondering if allergies, food allergies or sensitivities or celiac disease might be the underlying issue." Ms. Lundy should know because for more than a decade as a mother she has been dealing with celiac disease, food allergies and intolerances as well as other serious health issues with her three children.
Lundy's cookbook, ''The Super Allergy Girl™ Allergy & Celiac Cookbook - From A Mother Who Knows™'', is a gluten-free, casein-free, dairy-free, egg-free, peanut and tree-nut free and other allergen-free resource to help people on a gluten-free, GFCF diet, or allergy-restricted diet. Her book is available at http://www.TheSuperAllergyCookbook.com . She is passionate about helping people understand how they can use changes in their diet to resolve a wide variety of health issues, helping people cook and bake without wheat, gluten, dairy, eggs and other allergens and about getting the nearly 3 million Americans diagnosed with celiac disease.
Size: 6" x 9"
Pages: 405 pages
Soft Cover, Perfect Bound
ISBN#: 978-0-9797542-0-3
Price: $28.95
Contact: Ms. Lisa Lundy
Phone: (716) 835-6392
e-mail: Lisa(at)theroostercrows(dot)com
###