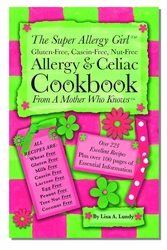 The medical textbooks on this topic can run several hundred dollars
Buffalo, NY (Vocus) July 7, 2009
More and more consumers are reading food labels and asking questions about food preservatives and additives. Demand for antibiotic-free and hormone-free meats is also on the rise. As some consumers scratch their heads wondering what BHA, BHT, Nitrates, Nitrites, MSG and parabens are or what they are doing in foods, motivational speaker and cookbook author Lisa A. Lundy offers the public a free White paper on Preservatives, Additives and Other Problem Ingredients, which you can download from her website: http://www.TheSuperAllergyCookbook.com . With surreal timing, the Feingold® Association of the United States has just released a stunning 2-part video on the same subject, which can be viewed on YouTube.com.
The 2-part video shows The Feingold® Association Director, Jane Hersey, speaking about food additives, preservatives and the impact on human health as well as on behavior, cognitive processing and learning abilities. As a 501(C)3 non-profit public charity, the Feingold® Association, has been helping individuals, families, educators and professionals understand the role of food additives since 1976. Chemicals and additives are added to foods to save money and extend the shelf life of products as well as to make foods more appealing and fun. Jane Hersey has more than 30 years of experience with understanding foods and how they can affect behavior, learning, cognitive function and health. The Feingold Association has extraordinary content on this topic on their website http://www.Feingold.org.
When Ms. Lundy saw the video she was ecstatic. "This 2-part video is exciting because Jane Hersey does a great job of explaining the role of food additives and the problems these ingredients can cause in human beings. It is especially helpful because Jane gives examples of alternative food selections that do not contain these harmful additives" said Lundy who advocates a diet free of additives and chemicals.
For consumers looking for more scientific and detailed information on the topic of food additives than is provided in her brief white paper, Lundy recommends visiting your local library or looking on-line for consumer-style books. "The medical textbooks on this topic can run several hundred dollars", Lundy said, "which is more than most consumers are willing to spend to learn about food additives."
Lundy's cookbook, "The Super Allergy Girl™ Allergy & Celiac Cookbook -From A Mother Who Knows™", is a gluten-free, casein-free, dairy-free, egg-free, peanut and tree-nut free and other allergen-free resource with over 100 pages of essential information and over 225 excellent recipes. With over a decade of experience with food allergies, celiac disease and the gluten-free and casein-free diet, Lundy knows how to produce great tasting foods with the least effort possible. She is passionate about people understanding how they can use changes in their diet to resolve a wide variety of health issues. Order now to receive 10% off the list price of this exceptional book from http://www.TheSuperAllergyCookbook.com using the promotional code FoodAdditives on the order. The 10% discount expires on July 31, 2009, and has a limit of one per customer.
Size: 6" x 9"
Pages: 405 pages
Soft Cover, Perfect Bound
ISBN#: 978-0-9797542-0-3
Price: $28.95
Contact: Ms. Lisa Lundy
Phone: (716) 835-6392
e-mail: Lisa(at)theroostercrows.com
###