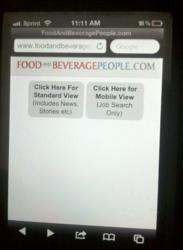 "Websites continue to dumb down smart devices just because the websites' management hasn't reconsidered their approach related to the growing the tablet market."
Princeton, N.J. (PRWEB) March 01, 2012
FoodAndBeveragePeople.com announced the official launch of their mobile version website today. The just-released set up allows mobile users to easily choose to view the site either in the same format as their regular computer, or via a job search-only mobile application."
Many traditional news and career websites are either not available to mobile browsers or will automatically launch a scaled down mobile version generally inserting an m-dot before the URL. The second approach made sense when all mobile users were viewing content from small telephone screens with poor resolution. Today however, according to Cohen, "Websites continue to dumb down smart devices just because the websites' management hasn't reconsidered their approach related to the growing the tablet market."
Importantly, no special application is required. Users can open the existing browser on their device, type in FoodAndBeveragePeople.com and receive a branded page with two options. The first option, 'standard view' is the entire news update and job listings site in its regular web format. The second option is a scaled down job search only view. The mobile job search is especially efficient for individuals who have a few minutes down time and want to check the job listings. Once the user finds a job they are interested in, they are presented with the option to e-mail the listing to themselves or someone else. That saves time over all and ensures users can use their focused time at their personal computer to take the correct steps to apply for the position.
On behalf of the employers, FoodAndBeveragePeople.com makes 100% of our database accessible to job seekers to ensure the job candidates are able to access and review any jobs that match their interests when it is convenient.
Employers wanting to know more about hiring options with FoodAndBeveragePeople.com are urged to contact the website either through the employer links on the site or by calling 973-994-2994.
About: Food And Beverage People Media Group, LLC which includes FoodAndBeveragePeople.com and the weekly industry newsletter, News Kernels, is dedicated to career minded individuals who work in or desire to work in the U.S. food and beverage industries. The website and weekly recap features content geared for professionals at every stage of their career including the latest industry news, promotions retirements, job listings and industry trends; helping the industry professionals grow into industry leaders.
###