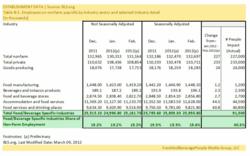 Princeton, NJ (PRWEB) March 09, 2012
FoodAndBeveragePeople.com, a site dedicated to the career minded individuals across the food and beverage industry, today released its monthly findings based on The United States Bureau of Labor Statistics (BLS) nonfarm payroll data. The findings indicated that nonfarm payroll employment continued to trend up in February (+227,000). Of the 227,000, over 40% of the individuals (+91,500) who were added to February payroll were employed by companies related to the food and beverage segments.
Food and beverage industry professionals who regularly read FoodAndBeveragePeople.com or subscribe to the website's weekly newsletter, News Kernels, know that the last three months have been extremely busy in the food and beverage industry. Recent stories on grocery chains restructuring, large capital investments in manufacturing plants and strategic marketing changes generally impact the food and beverage job market in positive ways.
In addition to news stories, individuals who want to ensure they have the latest information on who is hiring within the vast food and beverage industry visit the website's job section or sign up for free job alerts.