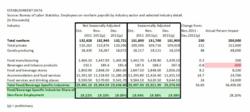 Princeton, NJ (PRWEB) January 09, 2012
FoodAndBeveragePeople.com has once again reviewed the data released by the United States Bureau of Labor Statistics (BLS) to uncover the details of how the various segments which make up the food and beverage industry are doing compared to the overall job market.
Companies that consider their primary business to be within the food and beverage industries include food/beverage manufacturers, grocery stores, food services organizations and restaurants/bars. Last month, the country added 200,000 people to the total non-farm payroll, compared to November, 2011. Of those 200,000 payroll gains, over 28% were for food and beverage companies.
A full chart showing demonstrating the growth of the various segments can be found on the website.
About FoodAndBeveragePeople.com: Food and Beverage People dot com is for and about the people that drive the food and beverage industry in the United States. Industry professionals at every stage of their career will find job listings, news, newsmakers and industry trends to inform their business and career decisions. Individuals needing to keep up with the vast food and beverage industry, but with little time to spare can sign up on the site for free e-mail newsletter service or follow us on http://twitter.com/foodandbevbiz or http://twitter.com/foodandbevjobs
###