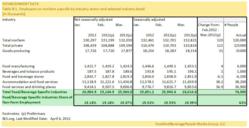 Princeton, N.J. (PRWEB) April 06, 2012
Today, the U.S. Bureau of Labor Statistics (BLS) reported the preliminary findings on the United States labor market for the month of March, 2012. Based on the released BLS findings, the employer segments made up by the food and beverage industry added a total of 74,000 jobs and accounts for 62% of the country's growth.
FoodAndBeveragePeople.com releases this sub-report each month to illustrate the tremendous impact the food and beverage industry has in United States employment. In addition to accounting for a large proportion of overall job growth, the food and beverage related industries employed over 26 million people in March.
Companies that consider their primary business to be within the food and beverage industries include food and beverage manufacturers, grocery stores, food services organizations, restaurants and bars.
A full chart showing demonstrating the growth of the various segments can be found on the website. http://www.foodandbeveragepeople.com/cm/news/food_and_beverage_employment_mar_2012
About: Food And Beverage People Media Group, LLC which includes FoodAndBeveragePeople.com and the weekly industry newsletter, News Kernels, is dedicated to career minded individuals who work in or desire to work in the U.S. food and beverage industries. The website and weekly recap features content geared for professionals at every stage of their career including the latest industry news, promotions retirements, job listings and industry trends; helping the industry professionals grow into industry leaders.