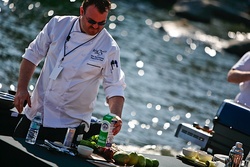 This is not just a career for me, but a lifestyle. My love for the Pacific Northwest and its abundant source for delicious ingredients and beautiful cuisine have lead me to the right restaurant.
Kirkland, WA (Vocus) July 1, 2009
Come down and meet the culinary contenders as top chefs go head-to-head to decide who is truly the master of their craft at Kirkland Uncorked July 17-19, 2009.
The scene is a battle of epic portions as three top chefs face off in the highly anticipated grilling competition on Saturday at 5 p.m. in the Tasting and Lifestyle Garden. With so much talent and experience this the competition promises to be sizzling!
Scott Lents:
From the commercial kitchen to the fabrication shop and back, nobody can argue Scott Lents loves to create and compose objects of beauty with his hands. As a teenager, afternoons and evenings were spent working in pizza shops and Italian restaurants in Tucson, Arizona (including Magpie's and Corriso's, respectively).
For six years thereafter, Scott practiced neon and sign fabrication using metal, wood and plastic as his mediums. His artistic flair and disciplined nature would eventually take him back to the kitchen when he moved to Seattle in April 1999. A mainstay ever since at respected restaurants on the Eastside, Scott began cooking at Cucina Cucina at Carillon Point, where he ascended from a prep cook to lead. He bolstered his career by taking an opportunity to learn regional cuisine at Spazzo's Mediterranean Grill and later at the Flying Fish, to gain a deeper knowledge preparing sauces and Asian cuisine. Scott's most recent appointment was at the Barking Frog, serving progressively as its Sous Chef, Banquet Chef, Executive Sous Chef and lastly, Chef de Cuisine.
Franz Junga:
He may not be Italian, but Franz Junga embraces Italian cooking of near perfection with his menu offerings at Il Fornaio Seattle. This 36 year old, boasting a ponytail, never suspected that culinary mastery would be his calling.
After graduating from Lewis & Clark College in Portland, with a degree in English and Latin American studies, Junga traveled to discover his future. After odd jobs around the world, his curiosity eventually pulled him back to Portland where he graduated with honors in 1996 from the Western Culinary Institute. With an Eastern European background, he has managed to stand out in a company with first-generation Italian chefs by learning Italian cooking techniques from his Italian predecessors at Il Fornaio. He worked his way to the top from pantry chef to Chef-Partner: overseeing the kitchen, the restaurant, the bakery, and the menu writing, all served up Italian-style and covering the influences of every region.
Aaron Valimont:
A native of Eastern Washington's Tri-Cities area, Executive Chef Aaron Valimont honed his skills at an early age, encouraged by his mother to get into the kitchen and emulate his early TV heroes Julia Child and Martin Yan.
While still in the Tri-Cities, Aaron cut his teeth in the restaurant business by working his way through the kitchen of one of the few truly fine dining spots, "The Boulevard". Upon relocating to the South Puget Sound area, Aaron landed at Tacoma's "The Lobster Shop" where he gained an appreciation for working with local Pacific Northwest ingredients and learned much about fresh fish and seafood before setting his sights on a larger audience. Soon after, Chef Aaron Valimont was given the opportunity to move his family to the Seattle area, and take over the kitchen at The Oceanaire Seafood Room as Executive Chef and Operating Partner. "I am extremely excited to venture into a new chapter in my life and future." Chef Aaron recently said. "This is not just a career for me, but a lifestyle. My love for the Pacific Northwest and its abundant source for delicious ingredients and beautiful cuisine have lead me to the right restaurant."
To learn more about the Kirkland Uncorked chefs, wines, restaurants, art and hotel packages, or to purchase advance tickets for the Tasting and Lifestyle Garden visit http://www.kirklanduncorked.com .
Contact:
Phil Megenhardt
Phone: 206-633-0422
###