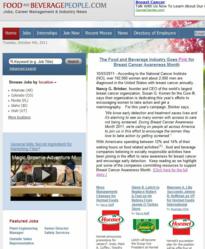 Princeton, NJ (PRWEB) October 04, 2011
This week, FoodAndBeveragePeople.com puts a PINK highlight on the corporate social responsibility food and beverage companies of all sizes demonstrate.
The food and beverage industry's contribution is on display this month as companies do their part to drive awareness of Breast Cancer. With Americans spending between 12% and 14% of their waking hours on food related activities*, food manufacturers, grocery stores and restaurants are tremendously influential in highlighting the cause.
In recognition of their efforts, and impressive monetary contributions to organizations like The Breast Cancer Research Foundation, Susan G. Komen for the Cure, Houston's The Rose and youth-focused Boarding for Breast Cancer, FoodAndBeveragePeople.com is highlighting this year's most inspirational food and beverage industry / breast cancer program alliances.
We're proud to do our part in saluting the companies who are delivering this important message to homes across the county. "The Food and Beverage Industry Goes Pink for Breast Cancer Awareness Month" is this week's front page story on FoodAndBeveragePeople.com. The full story will remain online.
About the website: FoodAndBeveragePeople.com (food and beverage people dot com) is for and about the people that drive the food and beverage industry in the United States. Industry professionals at every stage of their career will find news, newsmakers, jobs and industry trends that help inform their business and career decisions. Individuals needing to keep up with the vast food and beverage industry, but with little time to spare, can sign up on the site for free e-mail newsletter service or follow us on Twitter @foodandbevbiz .

U.S. Bureau of Labor Statistics, 2010
Media contact:
Gigi Cohen
FoodAndBeveragePeople.com,
div of R.E.A.D. Results LLC
973-994-2994
gigi(at)foodandbeveragepeople(dot)com
###