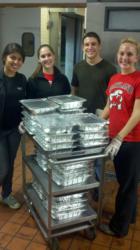 This Google Grant is exactly what Food Recovery Network needs to reach the masses and catalyze a movement for food recovery
Washington, DC (PRWEB) January 01, 2013
As the new year begins, a promising new student-run nonprofit called the Food Recovery Network is stepping onto the national stage with the help of a $120,000 per year advertising grant from Google. The student leaders behind FRN expect the grant to catapult the momentum of their simple mission to donate surplus prepared food from college dining halls to hungry Americans.
The ad grant is part of FRN's entry into Google for Nonprofits, the Internet giant's flagship program to give back to the nonprofit community. Food Recovery Network will also be taking advantage of other pro-bono services like Google Apps and YouTube for Nonprofits, enabling it to reach a broader audience with its message of fighting food waste and hunger.
"This Google Grant is exactly what Food Recovery Network needs to reach the masses and catalyze a movement for food recovery on college campuses," said FRN's founder, Ben Simon, who is a senior at the University of Maryland, College Park.
The grant comes as the nonprofit celebrates the end of a big first year where it successfully established itself as one of America's fast-growing student movements. FRN successfully multiplied from one to eleven campuses this year, bringing its total to over 110,000 pounds of food donated from colleges and universities that would have otherwise gone to waste.
The model relies on trained student volunteers to recover food from dining halls, sporting events, catered events, and restaurants around their college campuses. The students then partner with local food pantries and homeless shelters to distribute the food.
And Food Recovery Network is not new to awards. Last April, it won the $5,000 grand prize in the Kevin Bacon Do Good Challenge. In June, FRN also won the $15,000 grand prize in the Banking on Youth Competition. It recently topped Guidestar's list of nonprofits started by students, and Simon was named one of Univision's Top Ten Social Entrepreneurs of the Year for 2012.
The organization began at the University of Maryland, College Park in fall 2011 and emerged as a national organization in January 2012 when it joined forces with student leaders at Brown University, Pomona College, and University of California, Berkeley.
Almost all of the food donated through FRN is escaping the terrible fate of landfills, where it is a top emitter of methane, a greenhouse gas that the EPA estimates is 21 times more harmful than carbon dioxide. The EPA also says that 40 percent of food grown in America is wasted, making food America's number one waste stream.
Meanwhile, the Census estimates that 49 million Americans are food insecure. According to a new report by the Natural Resources Defense Council, if 15 percent less food was wasted, hunger in America would be cut in half.
##
The Food Recovery Network unites students at colleges and universities across America to fight food waste and hunger by recovering surplus perishable food from their college campuses and surrounding communities that would otherwise go to waste and donating it to people in need. http://www.foodrecoverynetwork.org