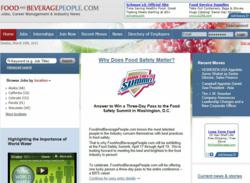 Princeton, N.J. (PRWEB) March 26, 2012
FoodAndBeveragePeople.com knows the most talented people in the industry concern themselves with best practices in food safety. That is why the company will be exhibiting at the Food Safety Summit, April 17 through April 19.
In addition to looking forward to meeting the best and the brightest in the industry and demonstrating best practices for using the website for professional success, FoodAndBeveragePeople.com will be offering one lucky person a three-day pass to the entire conference – a $975 value! (Sorry, travel and hotel accommodations not included.)
To enter the contest, simply answer the question "Why does food safety matter?" in less than three sentences. Send your answer via e-mail or post your answer to FoodAndBeveragePeople's Facebook page.
Entries must be received by Monday, April 2, 2012 to be considered.
The incredibly informative Food Safety Summit is designed to meet the needs of the food industry including growers, processors, retailers, distributors, foodservice operators, regulators and academia. The Summit provides a comprehensive education program with expert speakers and trainers; an expansive exhibition hall with vendors demonstrating the latest products and services and networking events to exchange valuable ideas and make meaningful connections.
FoodAndBeveragePeople.com is dedicated to helping career minded food and beverage professionals grow in their career. As in every industry, food and beverage industry professionals gain a tremendous advantage by learning from industry authorities, meeting industry peers and keeping current on current industry hot-button issues. With the recent changes to the food safety rules by the federal government, Food Safety is THE hot-button issue for 2012 for industry professionals and, in many cases, consumers.