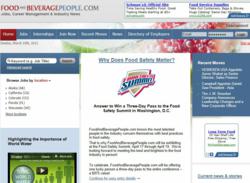 Who among us has a cow, a chicken, and a little garden patch in our own backyard? ...
Princeton, N.J. (PRWEB) April 05, 2012
FoodAndBeveragePeople.com has selected a winner to the Food Safety Summit contest which began on March 23. The rules of the contest asked entrants to express "Why Food Safety Matters" in just 3 sentences or less. Entries were judged on three separate criteria; creativity, facts and thoughtfulness.
The winner, Susan Considine, is a Supervisor for Michigan-based Perry Johnson Registrars. Considine wrote the following answer expressing her thoughts on food safety in today's society:
"Who among us has a cow, a chicken, and a little garden patch in our own backyard? We are completely dependent on others for the very food that sustains our lives. What trust this demands and where would that trust be without suppliers' commitment to food safety? "
The contest was sponsored by FoodAndBeveragePeople.com to highlight the website's participation as an exhibitor at the upcoming Food Safety Summit in Washington, D.C. As the contest winner, Ms. Considine will receive a full three-day pass to the Food Safety Summit.
According to the website's publisher Gigi Cohen, "The contest judges appreciated all of the entrants' thoughtful answers, but Ms. Considine's creative personalization of our reliance on food suppliers, stood out from the other answers."
Cohen continued, "We look forward to meeting Ms. Considine and all of the other attendees at the conference." Conference attendees are encouraged to meet the team in booth number 234 at the Food Safety Summit.