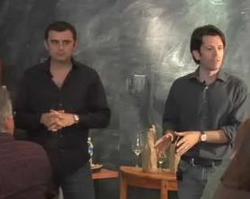 I came to know Gary as the guy behind Winelibrary.com. He and I were one of the first wine folks to really embrace the web. I am talking years ago, long before the whole web 2.0 thing came down
Chester, PA (PRWEB) July 9, 2008
There's a palpable excitement whenever two masters come together for spirited competition. Recently, Gary Vaynerchuk of Wine Library TV and Brian Freedman of Classic Wines TV battled it out on the field of food and wine pairings. The result was an exceptional display of charisma, talent, and knowledge, all of which was caught on camera for wine lovers around the world to enjoy.
Keith Wallace, founder and owner of The Wine School of Philadelphia, hosted the event. His plan was to create a high profile 'Sommelier Smackdown,' wherein the two wine professionals paired a four-course meal with the most appropriate wines they could find in a certain price range. The bottle selections were hidden from a team of dining judges, and both men had a chance to explain their choices during each portion of the meal. The judges scored each selection and declared a winner at the end of the final round.
Brian Freedman, one of Philadelphia's most popular wine personalities, was a veteran of Smackdown events, while Gary Vaynerchuk, host of the Internet's most popular wine video series, was no stranger to competition either. When asked how he secured the notoriously busy Vaynerchuk for the showdown, Wallace simply stated: "Getting Gary to join up was easy, I just emailed him. He's a busy guy, but he's got moxy. I knew he couldn't pass up a chance for an old-fashioned brawl."
Vaynerchuk often preaches the value of answering as many emails as possible, and here he demonstrated that theory in practice. Of course, it helps that Vaynerchuk and Wallace have had a long-standing relationship. "I came to know Gary as the guy behind Winelibrary.com. He and I were one of the first wine folks to really embrace the web. I am talking years ago, long before the whole web 2.0 thing came down," said Wallace.
Regarding the event, Freedman commented, "For (wine) students, the Smackdown was a great chance to experience food-and-wine pairings that, though occasionally quite different, all worked in fun, interesting, exciting ways. To me, that's the definition of a great education, and a great wine experience."
The pairing styles of Freedman and Vaynerchuk were noticeably different throughout the course of the event. Freedman, using elegant verbiage honed over years of teaching and hosting Classic Wines TV, explained his pairings with thoughtful confidence. Vaynerchuk presented his wines with the powerful charisma and humor that has made him famous as an innovator in the wine world. When describing the interactions between the two, Wallace stated, "I wanted to see my two favorite wine showmen on the same stage together...and it was even better than I expected. It was like watching the sun explode."
To view the first video in the four part Sommelier Smackdown series, visit http://www.classicwines.com/wine-videos/gary-vaynerchuk-vs-brian-freedman-food-and-wine-pairing-competition.
###