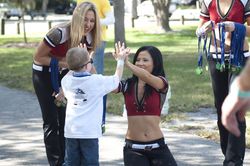 "The children and families that attended this event truly touched our hearts.It was a wonderful day where they could forget about their food restrictions, and just be kids!", says founder, Jamie Stern.
Apollo Beach, FL (PRWEB) December 10, 2009
Allergiesandme.com's company founder, Jamie Stern, co-chaired the Tampa FAAN "Walk Towards a Cure" in 2009. To see more of this event, follow the link to Tampa FAAN Walk. The day of the walk, the Allergiesandme.com Team provided volunteer support for the event activities.
The Food Allergy & Anaphylaxis Network (FAAN) was established in 1991. Their mission is to raise public awareness, to provide advocacy and education and to advance research on behalf of all those affected by food allergies and anaphylaxis. The owners of Allergiesandme. com share their vision and have donated not only money, but volunteer hours for their fundraising efforts.
Allergiesandme.com participates in other fundraising efforts on behalf of FAAN. The company launched their online store in August of this year, but was already involved with FAAN's outreach programs, even before opening for business. Allergiesandme.com donated a "Day on the Water" for FAAN's 2008 Auction, which was a top bidding item.
With the launch of FAAN's new website, Allergiesandme.com has joined them again in offering their membership exclusive discounts, available on the FAAN site. The team at Allergiesandme.com encourages all current members to check out the new website. The company has pledged to donate a percentage of their profits to organizations that help people with their battles against food allergies and food intolerances.
Currently, Allergiesandme.com is assisting FAAN in their 2009 Holiday Auction-Bidding for a Cure. The company has donated gift certificates to help families with food restrictions stock up on safe food for the holidays. This auction ends December 11th.
Allergiesandme.com looks forward to another successful year in 2010 and hopes to continue their support of FAAN in their efforts to build public awareness of food allergies.
There is no cure for food allergies, only avoidance. Per reports by the National Institute of Allergy and Infectious Diseases, in the U.S. alone, there were over 30,000 episodes of food-induced anaphylaxis and associated 100-200 deaths occur annually. Per FAAN, approximately 12 million people in the U.S. have food allergies. That's one in 25, or 4% of the population. Food allergies are more prevalent among young children – one in 17 under the age of 3 has food allergies. Additionally, Celiac Disease, an extreme intolerance to gluten, affects at least 1 in 133 Americans, although only 1 in 4,700 is ever diagnosed.
About Allergiesandme.com:
Allergiesandme.com is focused on providing a compelling offering of allergen-free food and being a resource to rely on in the daily struggles with a Food Allergy or Food Intolerance.
###