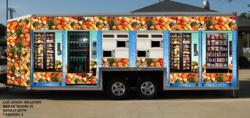 We are excited about the future of vending and the potential for growth in non-traditional venues as we look to the future
Mobile, AL (PRWEB) May 25, 2011
"Food deserts" are usually low-income urban areas that don't have access to healthy nutritional foods (communities that lack proximity to a supermarket). Statistics show that 23.5 mill. people in the US live in these communities.
Carts Blanche, LLC has had multiple conversations with government organizations and community service agencies to discuss unique ways to deliver healthy nutritional food to those in need. At present these areas are being served by push carts, produce stands and food trucks. Officials are eager to develop new options in food delivery to serve the people in need.
Consultations with vending machine manufacturers about reconfiguring machines to sell nontraditional vendible food products are ongoing while talks with product suppliers are in progress as well.
Carts Blanche is in a unique position to model a "Mobile Compact Food Mart" after their innovative product design VendaCarts mobile automated kiosk.
"Currently we are surveying the landscape and analyzing the challenge to see if this is a direction we would consider proceeding in" say's Nolan.
"We are excited about the future of vending and the potential for growth in non-traditional venues as we look to the future" says Nolan.
About Carts Blanche, LLC
Carts Blanche, LLC, based in Mobile, Alabama, was founded in 1995 by Annette Antoine Nolan. Originally, Carts Blanche designed and manufactured wooden push carts and kiosks. "VendaCarts" is the latest product launched by Carts Blanche. VendaCarts is a revolutionary mobile automated trailer equipped with up to nine built-in automatic vending machines plus a combination of service units such as ATM's, digital signage boards, microwaves and change machines. Once on location, both sides of the trailer pneumatically raise creating awnings that expose the ready to operate vending business. The trailer design allows daily business activities to be accomplished by one person. VendaCarts combines the fast-turn, high-volume worlds of vending and concessions with mobile real estate allowing the owner to capitalize on new markets and new customers at a higher rate of return offering a fresh new approach to self service retailing. For more information please go to http://cartsblancheonline.com
# # #