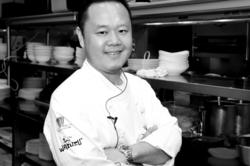 (Vocus/PRWEB) February 16, 2011
For an avid foodie or an aspiring chef, getting the chance to see the top players in the business, seeing them in action and hearing their stories from their own mouths is always a treat.
After a string of exciting video series the latest of exclusive interviews featured on the hot new food and drink portal FoodEnquirer.com features celebrated food journalist Max Jacobson interviewing Executive Chef Jet Tila of Wazuzu, Las Vegas. Wazuzu is perhaps Sin City's most highly acclaimed Asian restaurant and amongst the most spectacular in the world. The incredible Wazuzu can be found at the elite Encore resort a part of the legendary Wynn collection. Undoubtedly one of the most highly awarded and envied casino resorts on the planet you can be sure dinning here is nothing short of a slice of culinary paradise. Of course Encore, Las Vegas offers much more than just first class food and gaming with some of the most spectacular suites in the city, a stunning spa and great golf as well as a variety of other award winning restaurants.
However dinning at Wazuzu is worth the trip to Las Vegas alone. The first thing guests will notice on arriving at this stunning restaurant is the sparkling dragon that adorns the wall above the most prized table. The dragon stretches more than 27 feet long, features more than 90,000 Swarovski crystals and is valued at over $1.5 million. Though foodies who want a seat at the VIP dragon table need a party of at least 6, then relax in the plush semi circle booth complete with lazy Susan on the table and get a taste of everything.
It may be hard to choose which of the delicious dishes need to be tasted first. One of the biggest distinguishing factors at Wazuzu is that it offers an amazing spectrum of Pan-Asian delights with unique flavors. Here is where Executive Chef Jet Tila whips up tastes from India, Thailand, China, Japan, Hong Kong, Korea and Indonesia. Perhaps there is no other chef quite as qualified to create such a menu, coming from LA and a family of restaurateurs.
In this exclusive video interview at Food Enquirer Max Jacobson sits down to try a few of Jet's master pieces. This includes Thai beef salad, pad Thai, beef short ribs and a mouthwatering garlic encrusted Hong Kong style lobster. One of Wazuzu's guests favorite things about the restaurant is being able to choose the spice level of their meals on a scale of 1-5. 5 of course being fiery hot! However being the modest chef that he is Tila places much of the credit for the superior cuisine at Wazuzu on the superb high quality ingredients that he has access to including the best Kobe beef in Vegas.
FoodEnquirer.com offers many other interviwes with writer Max Jacobson, foodies and professionals will find this the most exciting food and drink portal on the web ever visited and no doubt will be hooked.
# # #