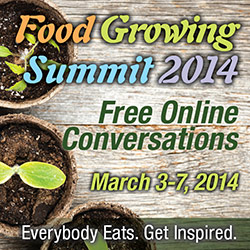 It is a revolutionary act to eat food that is healthy and natural and real, and to eat food that is grown in a way that is respectful of the earth and of the hands that grew it. - Ocean Robbins.
Louisville, KY (PRWEB) February 26, 2014
It's food growing time. That's why Gary Heine and Valerie Kausen organized the first Food Growing Summit with healthy food experts Ocean Robbins, Will Allen, Joel Salatin, Vandana Shiva, Erika Allen, Paul Stamets and fifteen other backyard food growers and urban food activists to get millions more people growing food now.
Listeners to the free, online Food Growing Summit will:
•Be inspired and guided to start growing some food this year
•Gain understanding of how growing food makes you healthier, happier and more secure
•Learn how our current food system is making us, our families and the planet sick
•Learn how to simply begin composting kitchen scraps and yard waste at home to rebuild garden soil
•Hear how growing food and supporting local farmers helps create resilient communities that can better withstand weather, political or economic-related disruptions
•Learn some of the secrets of long-time food growers
•Be empowered to take part in their local food economy and why it's so important
Heine and Kausen created their online, educational company, Inspiring Grateful, to empower people to take "small steps that create Big Changes" in their lives. Several years ago, they used their food-growing experience to start a very successful non-profit, 15Thousand Farmers, to teach people how to grow food simply at home.
"Growing food changed me and others we worked with in so many ways," Heine said. "But it can be hard to get started. We can help."
So they created the online Food Growing Summit to help spread the understanding of the importance of food to our life, our health, our families and communities. And how growing and eating healthy food makes everyone and their communities stronger. And how we can all grow it.
They asked their friend and mentor, Will Allen, co-founder of Growing Power in Milwaukee, to speak and he loved the opportunity to talk about growing more healthy food. When other speakers heard about the Food Growing Summit, they were excited to bring their perspective to the online conversations.
"People are beginning to understand how our food system is making us sick," Kausen said. "Growing some of our own food and supporting local farmers who grow the rest is the key to regaining our health, and that of our families, communities and the world."
The growth of sustainable, local food systems is gaining momentum across the country. By focusing on growing food and why it's important, this unique event will help people take small steps to get healthier, happier and regain security in a rapidly changing world.
"During World War II, the Victory Gardens planted across the country grew half of all the produce Americans ate," Heine said. "We can do that again."
The Food Growing Summit 2014 – Planting Community Resilience is free to listen in via phone or computer. To learn more about the Summit or to register for the event, visit the website.
About Gary Heine and Valerie Kausen:
Gary Heine and Valerie Kausen are activists, community builders and online educators helping to change the world. They founded Inspiring Grateful to empower people to take small steps leading to big changes in their lives, those of their families and communities. They create online educational programs to assist people in this process.
For more information or to register for the free event, visit the website.