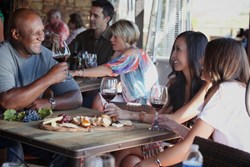 Paso Robles, CA (PRWEB) May 29, 2013
The Foodie Wine Tour will feature the culinary skills of Thomas Hill Organics' Chef Julie Simon as she creates small bites to pair with local wines. The wine tour will include wine tasting at four wineries and food and wine pairings incorporating organic farmed foods at two of the four wineries.
The Foodie Wine Tour is the latest presentation of the Grapeline Signature Series. These are occasional wine tasting outings incorporating wine country's more heralded experiences and offerings. Past Signature Series tours included the Pinot Lovers Tour, featuring many of the most renowned Pinot Noir winemakers in the Santa Barbara region, and the Music in the Vines Tour in Temecula Wine Country, presenting live performances by local winemakers with backgrounds in the professional music industry. The next Paso Robles Signature Series event is the Zin Lovers Tour on September 28, 2013, highlighting premier producers of Paso's signature varietal.
Thomas Hill Organics is a wine bar and market-bistro that features local organic produce grown on the family farm in the East hills of Paso Robles. This restaurant highlights unique wines from the Central Coast as well as supporting organic cattle ranches, poultry farms, and local fisheries. Owner Debbie Thomas states, "Pairing our uniquely crafted dishes with local wines not only compliments the food and the wine, but reveals nuances of other flavors from each other without overpowering either one." Thomas Hill Organics' farm grows heirloom fruit, vegetables, and nut varieties along with lettuce, garlic, tomatoes and various seasonal vegetables and herbs.
Grapeline Wine Tours began in Temecula in 2002, and expanded to Paso Robles in 2004 and Santa Barbara in 2007. Serving more than 25,000 wine tasters annually, it is the largest wine tour company in Southern and Central California, and also the top rated wine tour company on popular user-review sites Yelp and TripAdvisor.
The Foodie Wine Tour departs at 10am from all local hotels and concludes at approximately 4:30pm. Pricing is $139 per person, all inclusive. Reservations are required.