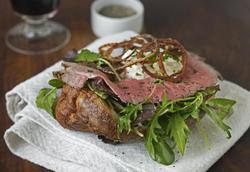 77% of the nation's adults spent an average of 8.6 hours watching food and cooking programmes in January, yet most of us freely admit that Mum remains our biggest inspiration when it comes to cooking.
(PRWeb UK) March 5, 2010
Food Network UK is highlighting Mum's influence on the country's cooking habits by hosting a competition to collect recipes handed down from mums nationwide.
"37.2 million of the nation's adults (77%)* spent more than one working day watching food and cooking programmes last month, yet most of us freely admit that Mum remains our biggest inspiration when it comes to food and cooking," says Food Network UK's spokeswoman Annabel McQueen.
"We want to see where Mum's kitchen reign is strongest – baking, comfort food, salads or festive meals." Food Network UK is urging people to share their favourite recipes from Mum and is offering one lucky mother and friend the chance to win a day in a luxury spa and cookery school.
One of Food Network UK's newest chefs, Andy Bates of Eat My Pie, says his Mum nurtured his passion for food by encouraging him to experiment with new foods and flavours. "My folks would always get us to try local dishes on holiday - I guess there are only so many burgers and cheese toasties you can watch your kids eat!"
"Mum taught me how to bake. I'd hang around for the bowl scrapings and my baking skills evolved from there. Not enough baking is done at home now." Andy has passed on the recipe for his Mum's Bakewell Tart to Food Network UK.
"Talk to any chef, they'll refer to their mother or grandmother as a positive culinary influence whether it is about their choice of ingredients, style of cooking or the way they interpret and evolve recipes," Andy says.
Foodnetwork.co.uk works alongside the Food Network UK television channel which launched on Sky channel 262 (and 263+1) and Freesat 405 (and 406+1) in November, celebrating food and cooking from all perspectives.
Looking to give something back to Mum this mother's day? Why not cook for her?
Begin the occasion with an aperitif, served with parmesan and black pepper crackers then get the meal off to a delicious start with bacon-wrapped scallops.
Andy Bates recommends cooking up hearty British fare to impress your Mum such as black pudding and pear pie or rare roast beef and Yorkshire puddings.
For dessert, take Mum back to her childhood with an old English favourite spotted dick or if she is a chocolate lover, try Andy Bates' easy peasy chocolate tart.
Don't forget to do the clearing up after the meal and take the time to have a good old natter with your Mum.
With more than 63,000 user recipes and tried and tested professional recipes, Food Network UK has something for all appetites. Its videos accompany people on their cooking journey and can be paused, stopped and repeated at leisure. Whether cooks are after new ideas for quick-and-easy meals, inspiring dinner party menus, food competitions or pure entertainment, Food Network UK can help.
If Mum is not around to answer culinary questions, tap into Food Network UK's friendly community to share and save recipes, discuss food and cooking and create video playlists. The website brings a fresh perspective to UK cooks, introducing them to new personalities, foods, recipes and ways of cooking, says McQueen.
Notes to Editor
*January 2010: Figures sourced from BARB UK /Techedge. Food & cooking programming is more popular than Chat Shows, Sitcoms, Human Interest & Factual Entertainment & Natural History to name a few.
The recipe for Andy Bates' Bakewell Tart is in attached document.
About Foodnetwork.co.uk
Foodnetwork.co.uk was developed by Scripps Networks Interactive, one the leading developers of lifestyle-oriented content for television and Internet in the US. On-air programming is complemented with online video, social media and e-commerce components on companion websites and broadband vertical channels.
The company's media portfolio includes: Lifestyle Media, with popular US lifestyle television brands HGTV, Food Network, DIY Network, Fine Living Network and country music network Great American Country; and Interactive Services, including online search and comparison shopping service Biz Rate and Shopzilla.
About Chello Zone
Chello Zone is a leading international broadcaster and creator of bespoke thematic television channels across Europe, the Middle East, Africa and Asia. It owns and operates a portfolio of five consolidated channel brands: Zone Reality, Zone Romantica, Zone Club, Fantasy and Extreme Sports Channel. Chello Zone's channels reach audiences in more than 155 million homes* across over 100 countries and in 23 languages.
Chello Zone works closely with international programming partners to create and operate joint venture channels, including pre-school children's channel JimJam, with HIT Entertainment, and dedicated food channel Food Network, with Scripps Networks Interactive. Chello Zone has also established a joint venture with CBS Studios International for a portfolio of six UK entertainment channels, including CBS Drama, CBS Action, CBS Reality and Zone Horror.
Showcasing modern classic TV series, insightful documentaries, Hollywood and independent movies, soap operas, sports, real life drama and lifestyle television, Chello Zone's channels offer something for everyone. The linear TV channels are complemented by innovative content commissions and co-productions on mobile, online video, on demand and interactive technologies.
Chello Zone is a business unit of Chellomedia, a leading international media company, and the European content division of Liberty Global, Inc.
*combined consolidated and joint venture channels
###