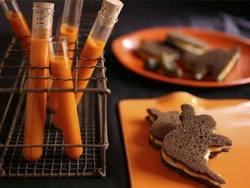 New York (PRWEB) October 13, 2008
You don't have to practice magic or go haunting to scare up some tantalizing dishes and snacks on Halloween. Just head to FoodNetwork.com, the Web's #1 Food and Cooking site, and its sister site, Recipezaar.com and check out the hauntingly delicious Halloween recipes. From Southwestern Pumpkin Burgers to Sweet Dreams Chocolate Fudge, these sites' delicacies are not just boo-tiful -- they taste devilishly delish!
For tips, tricks, and recipes, the all-new FoodNetwork.com has got Halloween covered. (http://www.foodnetwork.com/halloween) For those health-conscious ghouls and goblins, there's the Healthy Halloween Foods page with good-for-you goodies like:

Carrot Sauté with Ginger and Orange
Southwestern Pumpkin Burgers
Or, for the devil-my-care eater, make your own sweet treats:

G-Bomb Candy Bar
Sweet Dreams Chocolate Fudge
Over at Recipezaar, the Web's premier community recipe site, more than 825 Halloween recipes are waiting to be tried. (http://www.recipezaar.com/recipes/halloween)
For the hosts and hostesses, there's a whole Halloween Party Foods section:

Guacamole Ghoul Eyes
Pizza Mummies
Adults might be interested in some Spooky Cocktails like:

Raven's Blood
Marley's Mulled Cider
For more Halloween goodies, visit http://www.foodnetwork.com/halloween and http://www.recipezaar.com/recipes/halloween.
Scripps Networks Digital
Scripps Networks Digital is a diversified, multi-platform programmer that delights millions daily with award-winning content in the home, food and living categories. SN Digital's Web sites -- HGTV.com, FoodNetwork.com, DIYnetwork.com, FineLiving.com, GACTV.com, Recipezaar.com, HGTVPro.com, FrontDoor.com and the newest Ecologue.com -- are powered by engaging content, interactive tools and social spaces that take fans of Scripps Networks cable brands further into the story and offer online users information and inspiration to fuel their passions. SN Digital also distributes content to mobile and online partners, providing lifestyle solutions virtually anywhere, anytime.
###