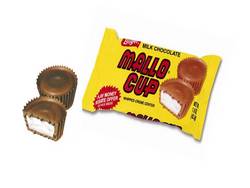 We are very excited and proud to have been chosen once again to be a part of this unwrapped series
Altoona, PA (PRWEB) October 7, 2009
Boyer Candy's Mallo Cups will take center stage on Food Network's "Unwrapped" series. (please check your local listings for airtimes in your area). The episode titled "Marshmallow Morsels" will take you through the manufacturing process of how Mallo cups are made and how Mallo cups have grown to be America's favorite marshmallow candies for the past 75 years.
Also, featured in the show will be See's Candies, Dylan's Candy Bar, Moon Pie, & Snowballs.
"We are very excited and proud to have been chosen once again to be a part of this unwrapped series," says Deborah Forgione, Director of Marketing.
For more information on show times and repeat schedule go to http://www.foodnetwork.com.
Contact: Deborah Forgione
(814) 944-9401 EXT. 103
Toll Free (888) 81BOYER
sdodson (at) boyercandies.com
###