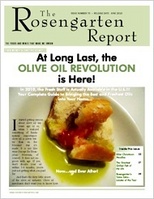 A Newsletter Is Revived, This Time as an E-Zine
New York (Vocus) July 1, 2010
David Rosengarten, well-known food-and-wine journalist, cookbook author, and TV chef, has re-launched the Rosengarten Report, his award-winning newsletter.
After a two-year hiatus, Rosengarten is ready to do it all again. This time, the principal medium is the internet--which permits photos, hyper-links, and formatting never before available.
Rosengarten's reporting, as ever, brings unique things to the proverbial table:
1) He is passionate and unbound.....willing to tackle the thorniest taboos, blow the whistle on anything, all in his never-ending search for quality in food, wine and gastronomic experiences.
2) Rosengarten has 27 years experience in food journalism: a career that has included editorships at Gourmet magazine, Saveur magazine, The Wine Spectator, plus hundreds of recipes and articles in publications like the New York Times. He appeared in 2500 shows on the Food Network, and has written six cookbooks (including the best-selling Dean & Deluca Cookbook ). Does experience count for something? You betcha. You can read all the new bloggers you like.....but in a world of crumbling media standards, you can count on David Rosengarten, a proven and road-tested palate, for the realest deal in judgments and reporting. "Taste You Can Trust."
3) The main focus of the food newsletter, the Rosengarten Report is great products available to readers; why shouldn't EVERY foodie do what the top chefs do, and receive fabulous foods at the door? The first re-launched Rosengarten Report (June 2010) featured results of a 150-olive-oil tasting, giving the results of a hunt for the best freshly-made olive oil. The August issue yields the results of a grail-like search through the world of Polish sausage, discovering amazing artisanal products from obscure Polish butchers across the country that you can order and sizzle this summer.
If you would like to view the July issue of the Rosengarten Report, click here.
4) Subscribers to the Rosengarten Report become members of Rosengarten's Table, a doorway to great discounts and values. The Rosengarten Report is dedicated to reader access. Food-wine-travel journalists get all kinds of perks, and their readers don't. But the Rosengarten Report is a highly personal compact between David and his readers.....he wants them to share the advantages he gets! Therefore, every subscriber to the Rosengarten Report automatically becomes a card-carrying member of Rosengarten's Table--enabling every subscriber to "share David's table" giving them access to upgrades, unobtainable reservations, discounts on goods, even free samples.
5) The Rosengarten Report spans the gastronomic world from high to low: David has always been interested in the best caviar today, and the best tuna-salad sandwiches tomorrow.
Florence Fabricant of the New York Times wrote about the Rosengarten Report, in the June 23, 2010 Wednesday Dining section:
"A Newsletter Is Revived, This Time as an E-Zine"
"David Rosengarten has started publishing his highly detailed, thoroughly researched food newsletter again after a two-year hiatus."
"The July issue, published on June 15, features Mr. Rosengarten's 32-page thesis on authentic Spanish paella, its history, how it has evolved and how it is made, where to find it in restaurants, and how to select a proper pan for making it at home. There are color illustrations and four recipes."
The Rosengarten Report, electronic version is $59.95 a year, from rosengartenreport.com. If subscribers wish to have a hard-copy mailed to them, the price is $79.95 a year, to cover the printing and mailing costs. With each issue bursting at roughly 30 advertiser-free pages, crammed with culinary gold--it's still a great value!
###