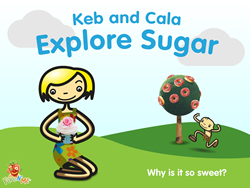 What is the difference between the sugar in a cookie and the sugar in an apple?
Bellevue, Washington (PRWEB) July 10, 2014
The company that created the White House Award-winning Smash Your Food app today released the eBook Keb and Cala Explore Sugar, What Is It and Why Is It So Sweet?, based on their successful sugar lesson. Now available on the Apple Store; click here to see eBook or visit http://x.co/sugarbook.
The CDC reports that 40% of the added sugar children consume is from soda and sugary drinks. Calories from sugary drinks often go unnoticed, yet account for almost half of sugar consumption! Inspired by an interactive lesson from Food N' Me, more than 70,000 elementary students and faculty in North Texas decided to meet that statistic head-on, and steered clear of 5,300 pounds of extra sugar in one week.
"What is the difference between the sugar in a cookie and the sugar in an apple?" Marta De Wulf, Nutritionist and co-founder of Food N' Me, poses this question. "It's confusing for kids because they are told not to eat too much sugar. But when they get cranky and hungry, they're told that their blood sugar is low." De Wulf adds, "After learning the difference between natural and refined sugars, both children and parents reported that it was easier to make healthier food choices."
Keb and Cala Explore Sugar, the first volume in a children's educational eBooks series about nutrition, unravels the mystery of when sugar is good for your body, and when it's not. This interactive eBook follows the adventures of two adorable characters, Keb and Cala, who lived in a primeval time before pizza delivery and cupcake shops. Colorful pages and animations hold children's attention as they learn valuable nutrition lessons. "We really see results when we empower kids with the facts they need to know," says De Wulf. "When their kids are engaged, it is easier for the parents to offer healthier food choices – and they tell us that they, too, really appreciate the tips and recipes."
From Quin Neal, Director of North Texas American Diabetes Association: "With the prevalence of diabetes in children, Food N' Me's sugar book, its lesson and its challenge is an innovative way to reinforce the ADA's movement to STOP DIABETES®."
The interactive Keb and Cala nutrition book series, created by nutritionists and dietitians, is part of the Food N' Me family of "learning disguised as fun," demystifying key nutrition concepts in order to educate children and their families about healthy eating, so together they can make better food choices.
# # #
For more information on this topic, and for images and press materials, visit http://press.foodnme.com. To schedule an interview with Nutritionist, Marta De Wulf, please call (425) 761-4774 or email marta(dot)dewulf(at)foodnme(dot)com.