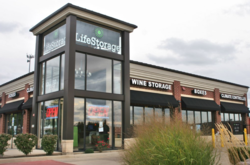 The food pantry is essential to the growing number of people who are hurting financially in these tough economic times
Mokena, IL (PRWEB) November 13, 2011
LifeStorage, Chicago self storage provider for home and business, records management and office solutions, is holding a food drive at its Mokena location (8531 W. 191st Street, Mokena, IL) for the Frankfort Township Food Pantry, running now through December 15th. The Frankfort Township Food Pantry, located at the Frankfort Township building at 11000 W. Lincoln Highway, Frankfort, IL, assists families in need in Frankfort, Mokena, and parts of Tinley Park and Orland Park. LifeStorage Mokena is accepting non-perishable food items, household essentials, personal hygiene items, baby products, grocery gift cards, and cash, in hopes of replenishing the facility's depleting stock for the holiday season.
LifeStorage Mokena Store Managers Kelly Butt and Megan Tolbert were approached by the Mokena Chamber of Commerce while helping out the LifeStorage Matteson location with their continuing efforts raising food and money for the Rich Township Food Pantry. Butt and Tolbert were inspired by the work that LifeStorage Matteson has been doing, and after being asked if they were able to provide local support, Butt and Tolbert thought it was the perfect choice for their next community commitment.
LifeStorage Mokena has been busy promoting the event on its reader board and by handing out fliers, but as Tolbert mentions, "there's always room to do more." So far, LifeStorage Mokena has raised six full bags of groceries, but the ultimate goal is to work with the surrounding communities and raise enough food so that no family in the area goes hungry. Even though the collection process began early this month, the food drive has been in the works since October, with the initial first push for this coming Thanksgiving.
All donations will receive a raffle ticket for a chance to win a gift basket provided LifeStorage. Food pantry accepts variety of household items, food, grocery gift cards and financial donations. For a complete list of accepted items visit Frankfort Food Pantry website. Donations will be accepted thru December 23rd.
"The food pantry is essential to the growing number of people who are hurting financially in these tough economic times. I personally live in the Frankfort community and know individuals that have fallen on hard times. LifeStorage is filled with caring humanitarians, which is one of the many reasons I find working here so special. We're always looking for new groups or projects so we can give back to the community, and this food drive is just the tip of the iceberg for us. We're proud to give back and help out any way we can," Tolbert said.
For those interested in donating, please visit the LifeStorage Mokena facility, or call 815-412-3092.
###