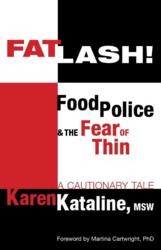 Guilt and rebellion feed the need to overeat.
Denver, Colorado (PRWEB) November 20, 2012
FATLASH! Food Police & the Fear of Thin—A Cautionary Tale is a new memoir by author and clinical social worker, Karen Kataline. She draws from her personal experiences to illustrate the psychodynamics of child beauty pageants and the consequences of food bans and restrictive diets—two very separate yet often related issues.
Thanksgiving, special occasions, and even her own birthday parties were all the same for Kataline: She wasn't allowed to eat the food that everyone else did. From early childhood through her grade school years, her mother obsessively monitored and controlled her diet in an attempt to make Kataline into the perfect beauty queen.
Kataline was put on the stage at three years old. Appearances were everything to her "stage mom on steroids," and as a result, her mother insisted on putting her on a 500-calorie-a-day diet, for her "own good." When everyone at the family dinner table was served a hot dog in a bun, Kataline was served only the hot dog. Accustomed to eating lettuce sandwiches at school, she expected to be "passed over" when it came time for dessert and she always was. These externally imposed diet obsessions fueled a FATLASH! —a rebellion and a real weight problem that took years for Kataline to understand. At 16, she weighed 285 pounds.
"Millions of Americans have food cops in their lives," Kataline says. "We all recognize them—the self-appointed busybodies who are certain that you must look the way they think you should look and eat they way they tell you to eat." Kataline clarifies, however, that she is not against nutritional education, but against nutritional force.
"We now have politicians and bureaucrats who believe they are entitled to apply the same nutritional force my mother imposed on me to entire cities and states. They blame the "obesity epidemic" on specific foods and ingredients though studies later debunk those ever-changing food fads. 'Tolerance' and 'diversity' never seem to extend to those whose bodies don't conform to their subjective and cultural sensibilities."
Kataline's memoir cautions that "food police,' whether they are in our homes or in our state houses, create more weight problems and eating disorders partially because rebellion and guilt feed the need to overeat. People then lose a sense of "body ownership," and with it, the ability to recognize their own hunger and satiation."
Just as we must say no to sexualizing children in beauty pageants, Kataline believes it's important to actively say no to the food police—and then enjoy your holiday dinner.
Karen Kataline received her MSW from Columbia University and has practiced in a variety of non-profit and corporate settings. She has taught communications and public speaking at the New School for Social Research, Parsons School of Design in New York, New Jersey's Montclair State College, among others. Fatlash! Food Police & the Fear of Thin is available from Amazon, Barnes and Noble and wherever books are sold.