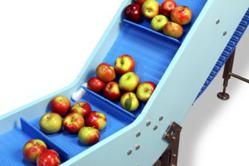 Muskegon, MI (PRWEB) July 11, 2012
Dynamic Conveyor of Muskegon, Michigan recognizes that while cleanability of a conveyor belt is certainly critical in hygienic applications, detectability of foreign objects in food products is paramount. All-plastic food grade conveyor belt construction eliminates the risk of metal contamination from broken pieces of wire belting; however, additional measures must be taken to ensure that contamination does not occur.
To provide an appropriate level of detectability for sanitation-critical applications, DynaClean food processing conveyors offer a variety of detectable belt materials for food processors. Color of belt materials is the first level of detection offered. Belts are manufactured in a variety of colors to facilitate easy visual detection of product contamination.
To provide additional assurance, Dynamic Conveyor now offers metal-detectable food grade conveyor belts, which are filled with a high-quality, rust-proof metal material that allows extremely small belt pieces to be detected. Finally, the ultimate conveyor belt material choice for detecting contamination is X-ray detectable acetal. Designed specifically to be detected by X-ray machines, this material exhibits a good balance of mechanical, thermal and chemical properties. The material reduces contamination risks for processors by allowing detection of pieces as small as 2 mm in size.
DynaClean reconfigurable food processing conveyors are custom designed and built to meet NSF, FDA, USDA and BISCC standards. Food grade conveyor systems can be designed, configured and reconfigured to include horizontal and multiple angle options such as 30°, 45° and 90°. Conveyor reconfiguration can save companies thousands of dollars. The opportunity for acetal metal detectable belting expands the customization and reconfiguration options available with
DynaClean conveyor systems for the food processing industry.
For more information about DynaClean conveyor systems, contact Dynamic Conveyor Corporation, 5980 Grand Haven Road, Muskegon, MI 49441; phone (800) 640-6850; or visit the web site http://www.DynamicConveyor.com.