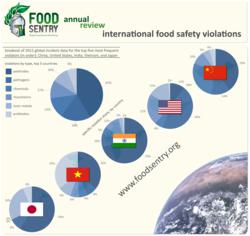 The current analysis suggests that bringing safe food to the tables of consumers will be a continuing challenge
Albuquerque, New Mexico (PRWEB) April 03, 2013
After 12 months of data compilation and research, Food Sentry, the recently launched global food source monitoring service, has released a preliminary analysis showing some of the most frequent international food safety violators.
Nearly 1,000 reported incidents regarding foods from 73 countries over the past year demonstrate the global nature of risks to our foods. These incidents are comprised of food items that were in violation of a country's regulatory scheme, and some of the most frequent offenders are surprising.
In order, the top five most frequent offenders were: China, United States, India, Vietnam and Japan.
Because these are all countries exporting significant amounts of food to other countries, their food products get tested more, leading to their place in the top five.
Rounding out the rest of the top 10 were the Dominican Republic, Thailand, Turkey, Brazil and France (tied), and Indonesia and Spain (tied).
Problems found were very wide-ranging, but Food Sentry's initial analysis shows that, by far, violative levels of pesticides are the number one food safety problem with the exception of the United States exports. The number one problem with US exports currently appears to be Listeria monocytogenes contamination, followed by various types of mycotoxin contamination.
Other contaminants that scored high on the list across the globe were toxic metals (especially cadmium and lead), excessive use of antibiotics (especially in Vietnam) and excessive use of various chemicals like preservatives and dyes.
These are preliminary results. Food Sentry's research continues as they analyze an enlarged, additional dataset to better refine the results. As the dataset grows they will be able to identify a variety of trends, including those foods most often reported as contaminated, where they come from, and common food-contaminant pairs.
The current analysis suggests that bringing safe food to the tables of consumers will be a continuing challenge, especially in light of the increasing amount of food traded globally. With more than 30 million shipments of food from foreign countries, almost 80 percent of US seafood and two-thirds of its produce is already foreign-sourced. Far from just a domestic problem, with the never-ending growth of global markets, food safety is a global problem.
See attached infographic for more information. Contact clanier(at)foodsentry(dot)org with questions or inquiries.