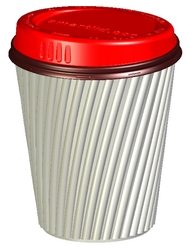 We are only the second Australian company to be recognized by the WSJ for technology advances since these awards commenced ten years ago
New York, NY (PRWEB) October 5, 2010
Smart Lid Systems, the inventors of the disposable color changing coffee lid, will begin export production after the Wall Street Journal voted the product one of the "Most Innovative Technologies' for 2010.
The Wall Street Journal assessed over 600 technology firms from around the world, with 17 different technology categories. The Smart Lid received the runner-up award for the Technology Design division. Judges for these awards represent some of the most high profile venture capital firms, the leading international business schools, and numerous technology research organizations.
"We are only the second Australian company to be recognized by the WSJ for technology advances since these awards commenced ten years ago" said Nick Bayss, Managing Director of Smart Lid Systems."
The Smart Lid only recently received FDA direct food-contact compliance for its key technology material, which is supplied by a U.S. based ink firm. Adhering to the guidelines of the FDA for direct food-contact use involves detailed laboratory migration testing to ensure the color changing plastic is safe for its intended purpose.
Mr Bayss added, "with the U.S. compliance and patents now in place, our production rollout will begin from the Sydney facility to the many hospitality packaging firms already inquiring. The Smart Lid will turn premium beverage packaging on its head, active packaging is the way of the future".
The lid alerts consumers their coffee/tea may be too hot by changing from a dark color to a bright red when the lid is applied. More importantly, the lid visually indicates whether or not it is securely attached to the takeaway cup, placing coffee house owners and consumers at ease regarding the safety concerns of hot beverage spillages.
The company is now focusing on aligning with key distribution partners with export pricing now available. In addition, the Smart Lid will fit many of the major brands of disposable hot paper cups the world over, with the healthcare and retail sectors next to be entered into.
About Smart Lid Systems:
Smart Lid Systems is a multi-award winning Sydney based product development company who for the past 8 years have been collaborating with Australia's largest foodservice plastics manufacturer to research and develop what everyone in the plastics industry said was not technically possible – a color changing disposable coffee lid.
http://www.smartlid.com
Contact Details:
Nick Bayss
Managing Director
Smart Lid Systems
Tel: +614 0348 5858
nick(at)smartlid(dot)com
http://www.smartlid.com
twitter.com/smartlid
###