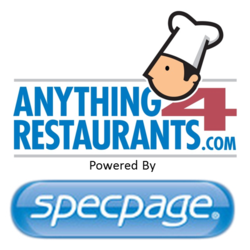 Foodservice professionals continue to turn to A4R's centralized online community for instant, twenty-four/seven product searching and purchasing.
Warwick, Rhode Island (PRWEB) January 29, 2013
In 2009 SpecPage launched the Anything4Restaurants.com website with the goal of making their extensive library of product information easily accessible for Foodservice and Jan/San Trading Partners. This site came at a time when industry professionals were moving to the online environment to help lower costs and stay up-to-date with real time trends and information.
Today, Anything4Restaurants is the industry's leading Foodservice search engine and it continues to experience rapid growth in the number of Foodservice Professionals utilizing the site from all segments of the supply chain. As traffic increases, benefits have also grown for Foodservice Suppliers, Distributors, and Buyers.
The pricing for Suppliers to list an entire product catalog remains extremely cost effective and Suppliers have seen increased awareness as A4R aids in placing their products at the top of major search engine results. The number of Suppliers displaying products on A4R has increased considerably over the past year and there are now nearly 3,400 Suppliers displaying over 161,000 products on the site. Products on A4R rank on the first page for over 3,000 keywords, thus allowing Foodservice Buyers to locate a source for these products fast.
The site's inventory ranges from food and beverage products to jan-san products to technology and service providers. As consumer use of technologies also remains on the rise, Foodservice professionals continue to turn to A4R's centralized online community for instant, twenty-four/seven product searching and purchasing.
Within the past year, A4R has undergone a website redesign and introduced the "Find A Distributor" function, allowing Foodservice Distributors to link to their Suppliers at the product level and receive qualified leads and direct contact from serious Foodservice Buyers. These enhancements will allow Operators to find the products they need more quickly and locate the Suppliers and Distributors of these products more easily.
In the future, A4R has plans for a comprehensive mobile strategy to provide ease of use for Foodservice professionals seeking this information at their fingertips.
About Anything4Restaurants.com |
Anything4Restaurants.com is the fastest growing online source for product information and trading partner connectivity in the Foodservice and Jan-San Industries. The A4R Library provides a comprehensive source of product information and is powered by SpecPage, a recognized leader in content creation and trading partner connections. The A4R solution creates an efficient business flow between Suppliers, Distributors, and Buyers. With easy to browse product categories and an internal search engine, A4R helps Foodservice professionals avoid irrelevant search results and to find products fast. For more information, please visit Anything4Restaurants.com.
About SpecPage |
SpecPage is the leading provider of product information and online catalogs for the Foodservice and Jan-San Industries. SpecPage provides Distributors and Manufacturers with a customizable go-to-market solution that includes ecommerce and catalog information as well as full website design/redesign and search engine optimization (SEO). SpecPage also offers a turnkey solution for implementing GS1 Standards and are a Certified Solution Partner with 1WorldSync, the world's largest GDSN Data Pool. The comprehensive library of product information includes important details for buying and selling products. SpecPage is also the parent company of Anything4Retaurants.com (A4R), the industry-leading website for sourcing product information and connecting foodservice professionals. For more information, visit SpecPage.com.