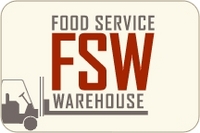 Englewood, CO (Vocus) June 17, 2010
In addition to being easier to navigate, the new Foodservicewarehouse.com website allows for easier readability and provides more valuable information for foodservice professionals and serious home cooks.
CEO, Madhu Natarajan, is very excited about the new site design and how it will help customers, "We gained more real estate on the site that has allowed us to create a better user experience by showcasing the full breadth of our site's content. Customers can now easily access not only our products, but also our education center and specialty stores for business types such as Bar and Concession."
Apart from being easier to navigate and find sales and specials faster then before, Foodservicewarehouse.com has added easy-to-find links to all of their social networking sites like Facebook and Twitter. This will enable Foodservicewarehouse.com to build an online community with their customers.
FoodServiceWarehouse.com was founded in June 2006 with a single business goal in mind: empowering foodservice operators to make their own businesses more successful. It has since become a leading provider of restaurant supplies, restaurant equipment, and foodservice education in the online marketplace. With over 60,000 products at our fingertips, our full service solution has provided support to thousands of foodservice operations across the country.
Source: Foodservicewarehouse.com
# # #