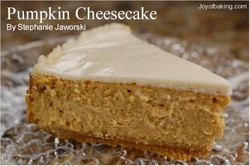 I have been asked many times over the years when I will produce a cookbook and my answer is simple, I can reach far more people on the Internet then I could ever reach with a cookbook. In the last 30 days Joyofbaking.com has reached as many people as many best selling books
Alpharetta, GA (PRWEB) December 24, 2008
Joyofbaking.com, one of the the Internet's top independent food websites, announces it has reached a U.S. ranking of 1483. This ranking is generally occupied by large corporations, popular magazines and newspapers. According to Quantcast which does the ranking, in the 30 days prior to December 23, 2008, 1.6 million people visited the website at least once, 1.1 million from the U.S. In the same period the site served 6.5 million pages of scrumptious baking recipes and information.
An exceptional site feature is the hundreds of illustrative photos of scrumptious baked goods that truly anyone with an interest in baking can make. Everything on the site is fully tested and retested to ensure success even by the novice baker. Many bakeries, restaurants and Inns around the world have used recipes from Joyofbaking.com in their business.
Founded in 1997 by Stephanie and Rick Jaworski, Joyofbaking.com's success is attributed to a unique formula that goes far beyond listing recipes. The site is packed with unique information on the history of baking, baking techniques, ingredient details, measurement conversions and lots of interesting trivia about different types of baked goods and ingredients.
"I have been asked many times over the years when I will produce a cookbook and my answer is simple, I can reach far more people on the Internet then I could ever reach with a cookbook. In the last 30 days Joyofbaking.com has reached as many people as many best selling books," comments Stephanie Jaworski Founder of Joyofbaking.com.
###