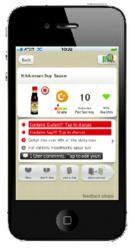 New York, NY (PRWEB) August 15, 2012
According to the National Institute of Health, over 15 million Americans suffer from a food allergy or sensitivity. Many more follow gluten free and lactose free diets. Although allergen labeling has recently improved, many people still find themselves wondering if a product they are about to buy is suitable for their condition.
Introducing Allergy & Gluten Free Scanner by Fooducate, an iPhone app empowering people to shop with confidence. The app automatically scans a grocery item's barcode and instantly informs the user what is really inside. Based on a user's allergy and intolerance preferences, the app analyzes the product ingredient list, allergy statement, and information from manufacturer, and alerts when an allergen is present or suspect. Additionally, Fooducate offers safe and more nutritious alternatives.
The new app is based on Fooducate's award winning mobile app for choosing healthy foods, which has been downloaded and used by millions of consumers since launching early last year. Fooducate has won numerous awards, including best health app of the year on the iTunes App Store, and first place in the US Surgeon General's Healthy App Challenge.
Like the original app, Allergy & Gluten Free Scanner by Fooducate assigns each product a letter grade (A, B, C…) along with brief explanations and warnings about its nutrients and ingredients. Users learn about controversial preservatives and additives, hidden trans-fats, and excessive amounts of sodium and sugars.
Product labels change frequently, and many shoppers have been apprehensive about using automated tools reliant on online databases. This is where Fooducate's unique community comes into play. Fooducate harnesses the collective vigilance of its loyal members, encouraging them to comment and discuss the product allergy information provided, and even to dispute it. Each comment is promptly reviewed and investigated by a team of experts. Updates are then made to Fooducate's product database of over 200,000 products, which has become the platform of choice for people to discover more about the products they eat.
Why use Allergy & Gluten Free Scanner by Fooducate?

Automatic barcode scanning - easy and fun!
Easy to understand color coded warning for unwanted gluten and allergens in a product
Supports nine allergies and sensitivities: gluten, lactose, milk, soy, egg, peanut, tree nut, wheat, soy, fish, and shellfish
Recommendations for alternatives without allergens - makes shopping faster and easier
A large and growing database of food products (over 200,000 UPCs, including private label brands)
Community discussion and contribution
Click to call a product manufacturer, directly from the app
About Fooducate
Fooducate's goal is to help millions of shoppers choose healthy, tasty, and affordable food, and to affect positive change on the food industry. Fooducate's mobile apps, website and daily blog help people find better food at the supermarket. The company was founded by Hemi Weingarten, a tech entrepreneur, foodie, and father of three young children. For more information about Fooducate, please visit http://www.fooducate.com.
Disclaimer
Fooducate is not a substitute for advice and service provided by qualified and licensed medical professionals. Any health related information found herein is available as part of a general educational and commercial service. When looking up product and allergy information on Fooducate, keep in mind that manufacturer formulations can change at any time, fooducate's data may be outdated, incomplete or erroneous, content from other users may be erroneous. To verify a product's fit for your consumption, you should ALWAYS READ THE PRODUCT'S LABELS, check with the manufacturer directly, and consult a qualified and licensed medical professional.
# # #