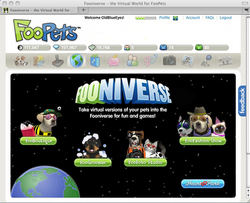 The Fooniverse is an exciting addition to FooPets.com and makes the game play even more fun. In the real world, many pet owners love to dress up their pets and show them off. By expanding the parameters of reality in the game, FooPet owners get a fresh, new spin on pet playtime with a whole virtual world of fashion.
Redwood City, CA (PRWEB) September 28, 2009
Today, some of the world's most renowned trendsetters are the stylishly dressed, frequently photographed pets that belong to famous celebrities and socialites. Now, in the Foopets.com social gaming environment, virtual pets owners can engage in the same fun experience of turning their beloved pets into the next top fashionistas.
Creator of realistic virtual puppies and kittens called FooPets, FooMojo today announced the grand opening of the Fooniverse, a new virtual realm within the FooPets.com social gaming website where owners and their pets can play and have fun like no place in the real world. Released from beta today, the Fooniverse expands on the site's reality based game play and social interaction. The Fooniverse initially features fashion-themed games and activities that bring the pet scene of the "hip and trendy" to FooPets style experts ready for catwalk competition. Inside the Fooniverse, fashion-fierce FooPets owners get the hands-on experience of creating their very own pet fashionista complete with shopping sprees, grooming salon appointments, runway shows and professional photo shoots.
"The realism in the FooPets social gaming environment has raised the bar on the emotional attachment people can feel for a virtual pet," said Dr. Ron Hornbaker, veterinarian, founder and CEO, FooMojo. "The Fooniverse is an exciting addition to FooPets.com and makes the game play even more fun. In the real world, many pet owners love to dress up their pets and show them off. By expanding the parameters of reality in the game, FooPet owners get a fresh, new spin on pet playtime with a whole virtual world of fashion."
For trend-conscious FooPets owners ready to put their styling skills to the test, the Fooniverse is this fashion season's hottest online virtual pets destination. Whether you're a casual fashion watcher hoping to dress your FooPet like a Beverly Hills Chihuahua or a hardcore trendsetter aiming to put your pet in the running as the next top supermodel, Fooniverse offers something fun for users of all ages. Inside the Fooniverse, you'll find:
FooGroomer: While every pet fashionista must sparkle and shine, there is way too much on their social agenda to have time for a leisurely bath. FooPets owners, it's up to you to keep your fashion FooPets on schedule with the most efficient grooming appointments possible. Race against the clock to earn FooGem prizes by washing, blow drying and deodorizing your pets as quickly as possible. The fashion fun awaits, so hurry and get your pets groomed and out the door for their next big meeting.
FooBoutique: Stocked with the latest trends for fashion-forward virtual puppies and kittens, the FooBoutique is the ideal place to shop 'til you drop. In your own personal fitting room with a full-length mirror and spinning platform, you and your pet will have the best possible view of your new outfits from front to back. Featuring clothing and accessories that can be customized exactly to your liking, the boutique's simple styling tool lets you select options from the store catalog and easily try them on your FooPets. All items in the boutique are purchased with FooGems and FooDollars, the game's virtual currencies.
FooFashion Shows: After a spree in the boutique, your pets are dressed to the nines but are they ready for the ultimate fashion showdown? Make an appearance at the FooFashion Shows where FooPet owners compete for the pet fashion world's top runway honor of best-in-show. Fashion shows are open to all and everyone can play. Either enter your FooPet as a contestant or watch the show and cast a vote for your favorite cat-walking, pet fashionista. Every show has big prize money at stake and once the tallies are in, the talented first, second and third place winners take all - especially bragging rights in the FooPets forum where all of the buzz happens.
FooFoto Studio: Can your FooPets strike a pose? Capture your pets' fiercest moments with a professional photo shoot in the FooFoto Studio. You play the role of famous fashion photographer with a sharp eye for snapping all of your pets' best shots. Watch as your pets work the camera, use the photography lighting and find the best angles to get you that picture perfect shot all the pet fashion editors will want. Need more to work with? Up to five pets can be included in any shoot but make no mistake they all like the spotlight. You select which pictures to save or delete. Your saved shots can be captioned and are accessible in your FooPhoto inventory to share with your friends.
Availability:
The Fooniverse is accessible for free in the FooPets social gaming application. Dozens of breeds of FooPets puppies and kittens are now available for adoption on different locations across the Internet. For Facebook and MySpace users, FooPets can be adopted free-of-charge through the FooPets application. FooPets also can be adopted free-of-charge on the FooPets.com Web site.
About FooMojo, Inc.
FooMojo is the creator of FooPets, the world's most realistic and emotionally engaging virtual pets. The 3D puppy and kitten FooPets are "real" in nearly every sense, growing, playing, learning tricks, developing personalities, and requiring regular feeding and care. As part of an entertaining social gaming application, users of all ages can adopt a FooPet on Facebook, MySpace, and the FooPets.com Web site, with more locations coming soon.
Aimed at enriching the lives of real people and animals with engaging, social game play, FooMojo was founded in 2007 by Dr. Ron Hornbaker, a veterinarian who believes the special bond between people and their pets could be recreated online. FooMojo's creative and development efforts are led by a talented group of web developers, along with artists and animators from the feature film and gaming industries. Most importantly, FooMojo is committed to supporting real pets in need, and through its non-profit FooPets Foundation, works with leading animal-related charities such as the ASPCA and The HSUS.
Located in Redwood City, Calif., FooMojo is backed by notable investors including Softbank Capital, Softbank Corp. Japan, Mike Maples, Jr., Ron Conway and Baseline Ventures. For more information visit http://www.foomojo.com.
###