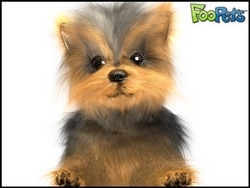 When we initially released FooPets on Facebook last Valentine's Day, we didn't expect the overwhelmingly positive reaction to the puppies and the widespread global engagement in the application that continues today
Redwood City, Calif. (Vocus) February 11, 2009
FooMojo, Inc., creator of the world's most realistic and emotionally engaging virtual pets, today announced it will mark its 1 year anniversary on Feb. 14, 2009, by making a free, Valentine's Day Virtual Gift Package, available to all users. The FooPets Valentine's Day Package will include a love-themed background; a heart shaped oak tree; a pair of white doves; a red heart pet bed; and a vase of purple tulips. With newly released features in the FooPets application, owners can show love by designing a custom room especially for their pets using the package items or giving these special-edition items as Valentine's gifts to their favorite friends.
"When we initially released FooPets on Facebook last Valentine's Day, we didn't expect the overwhelmingly positive reaction to the puppies and the widespread global engagement in the application that continues today," said Dr. Ron Hornbaker, veterinarian, founder and chief executive officer of FooMojo. "Our user community has been extremely dedicated to making FooPets the best virtual pets application on the Internet. We wanted to spread the love to FooPets owners everywhere with some virtual gifts created just for them and take special care to make this occasion a fun milestone that truly honors their support."
With feature updates to the FooPets application released on an ongoing basis, FooMojo recently launched the new FooPets Designer, a feature that enables users to create custom rooms with virtual items purchased from the application's online store, called the FooMart. Once purchased, virtual goods such as backgrounds, pet beds, furniture and other accessories are placed in a personal inventory a FooPets owner can access. Using the FooDesigner feature, virtual items available in a personal inventory can be hand placed throughout a room to design the exact environment a FooPets owner wants to create for their puppy or kitten.
The FooMart is updated frequently with new virtual goods and accessories and owners are welcome to add items to their inventory whenever they would like. FooMojo will also offer FooPets owners, the new FooGift feature. With FooGift, users can give any item in their inventory to a friend as a gift. All items in the Valentine's Day Virtual Gift Package will be available in owners' inventories and can be used with either the FooDesigner or FooGift features beginning on Feb. 12, 2009.
FooPets are the world's most realistic and emotionally engaging virtual pets for users of all ages. Easy to recognize due to their lifelike appearance and behavior, FooPets take on their own individual lives and develop unique personalities. Once adopted, they need daily care and attention and rely on their owners for food, water, playtime and affection.
Availability and Pricing:
Many different breeds of FooPets puppies and kittens are now available for adoption on different locations across the Internet. For Facebook and MySpace users, FooPets can be adopted free-of-charge through the FooPets application. FooPets also can be adopted free-of-charge on the newly launched FooPets.com Web site. On iPhone and iPod touch, FooPets are available for $.99 from Apple's App Store or at http://www.itunes.com/appstore/. The FooPets Valentine's Day Virtual Gift Package will be available free to all users beginning on Feb. 12 through Feb. 15, 2009. Please visit http://www.foopets.com for additional information, detailed pricing and adoption instructions.
About FooMojo, Inc.:
FooMojo is the creator of FooPets, the world's most realistic and emotionally engaging virtual pets. The 3D puppy and kitten FooPets are "real" in nearly every sense, growing, playing, learning tricks, developing personalities, and requiring regular feeding and care. Users of all ages can adopt a FooPet on Facebook, MySpace, and the FooPets.com Web site, with more locations coming soon.
Aimed at enriching the lives of real people and animals with engaging, educational game play, FooMojo was founded in 2007 by Dr. Ron Hornbaker, a veterinarian who believes the special bond between people and their pets could be recreated online. FooMojo's creative and development efforts are led by a talented group of web developers, along with artists and animators from the feature film and gaming industries. Most importantly, FooMojo is committed to supporting real pets in need, and through its non-profit FooPets Foundation, works with leading animal-related charities such as the ASPCA and The HSUS.
Located in Redwood City, Calif., FooMojo is backed by notable investors including Softbank Capital, Softbank Corp. Japan, Mike Maples, Jr., Ron Conway and Baseline Ventures. For more information, visit http://www.foomojo.com.
CONTACT:
Lynne Cox
BlackBelt Strategies for FooMojo, Inc.
925-321-5285
lynne (at) blackbelt-strategies (dot) com
###